McDonald's denies using french fry 'trick' to fool customers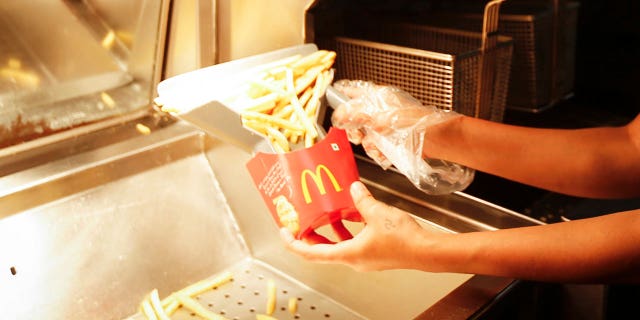 A couple of McDonald's employees on Reddit are claiming their managers had asked them to "pinch" the fry cartons to make them appear fuller, but McDonald's isn't buying it.
"We believe these claims to be fictional," said McDonald's in a statement obtained by The Mirror. "There are no 'secret tricks' and we have strict operational procedures in place to ensure that fry portions are not under-filled.
"Without a verified source we are unable to investigate this further," the company added.
MCDONALD'S EMPLOYEE JUMPS OVER COUNTER, PUNCHES EMPLOYEE OVER FRIES
The hubbub over this alleged fry "trick" began late last week, after Reddit user ExperiMENTALbunny — who claimed to be an ex-McDonald's employee — wrote that his old managers "taught [him] how to pinch the fry carton just right while putting the fries into them so that it looked full, but actually wasn't."
"I only had [one] customer call me out on it," added ExperiMENTALbunny. "He shook the fries out into his bag and poured them back into the fry carton himself and it only filled up halfway, so I had to give him more fries. I was impressed and embarrassed. It's been 7 years and I can still see his face."
Soon afterward, another ex-McDonald's employee claimed he "hated this practice" when he worked at the restaurant, and never complied with his bosses' requests to do it.
"Never got fired, but managed to have a few customers ask me when my shifts were the next week so they could have me filling their fries," wrote the Redditor.
MAN CLAIMS MCDONALD'S SERVED HIM A RAW BURGER
Neither employee detailed exactly how the "pinch" practice worked, nor where their particular McDonald's restaurants were located.
A couple of commenters later denied having heard of this practice, with one saying he "was never taught to do this at my McDonald's," and a few others claiming they used to give out extra fries on purpose.
"I absolutely hated working at Maccies so I would overfill fry boxes as much as possible," read one of the responses.
Meanwhile, another Redditor offered a simple solution to anyone who felt wronged by their McDonald's fry orders:
"Just go to a Five Guys," wrote Boxterguy. "They give you so many fries. Order the smallest size and they'll fill up the cup, then toss 1-2 more scoops on top of everything in your bag."
FOLLOW US ON FACEBOOK FOR MORE FOX LIFESTYLE NEWS
A representative for McDonald's was not immediately available for comment.