McDonald's customer stuns social media users with videos of 'Sausage McRock' breakfast sandwich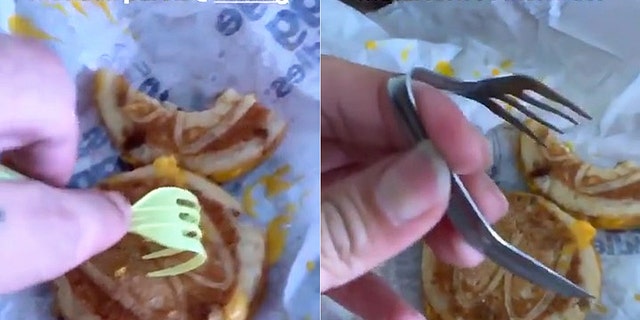 This McDonald's customer's breakfast wasn't quite what he was expecting.
Facebook user Edwin Edl visited a McDonald's in Singapore to grab a McGriddles breakfast sandwich on Friday.
However, when the man unwrapped his morning meal, he discovered the maple syrup-infused griddle cake was not as soft and warm as he expected. In fact, it seemed to be rock hard.
MCDONALD'S CUSTOMER FLIES INTO RAGE OVER APPLE PIE NOT BEING READY, GETS ARRESTED
Edl filmed himself in a series of videos trying to break open the bread with a variety of tools — most of all failing to make a dent in the tough exterior.
"Proudly present to you Sausage McRock with egg," Edl wrote in a video of himself trying to stab the griddle cake with a plastic fork — which becomes bent, leaving the food unpierced.
Edl goes on to try a metal fork, which also bends, as well as a screwdriver and screw, before finding some success with a hammer and nail.
Edl also tries throwing the bread off a building and running over it with his car, but both prove futile in smashing the bread.
CLICK HERE TO GET THE FOX NEWS APP
"@mcdsg did a really good job on making McGriddles so tough," said Edl in the video.
Those on Facebook were tickled by the McGriddles sandwich bun and left comments laughing about the strange situation.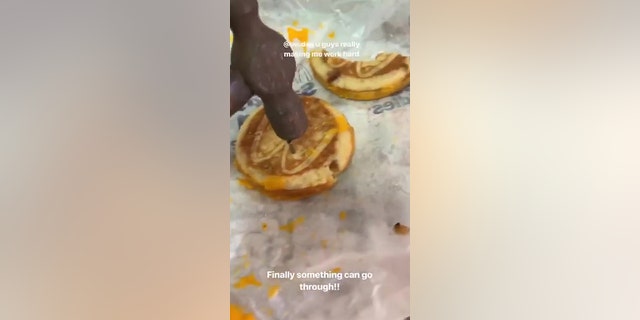 "LOL, i'm about to eat Mac Breakfast and i saw this video😂🤣 got me dead," one user wrote.
"babe omg I haven't laughed this much for the longest time," another commented.
"wth! Mac forgot to defrost n cook it," another suggested as the reason the bun was so hard.
Some were a bit skeptical about the videos, forcing Edl to claim on in his caption that he did not freeze the burger and insisting that was how it was served to him.
FOLLOW US ON FACEBOOK FOR MORE FOX LIFESTYLE NEWS
Though the tough sandwich may turn some people off from McDonald's breakfast options, Edl said that he still loves the fast-food chain and the McGriddles is still his "favorite McDonald's breakfast of all time."