McCormick and Schmick's manager suing for $999,999 after getting bit by venomous spider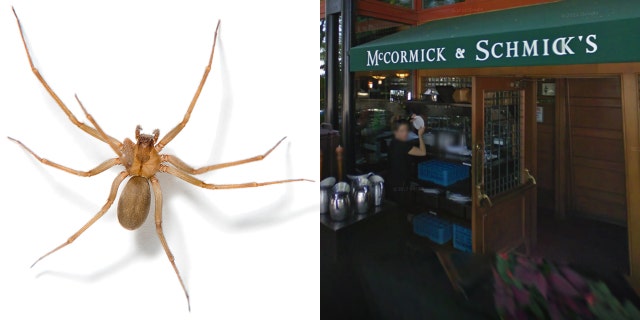 A restaurant manager in Oregon is suing a pest control company for $999,999 after he allegedly was bit by a poisonous spider.
Scott Clement runs McCormick and Schmick's Harborside at the Marina, an upscale restaurant and bar in Southwest Portland. In the lawsuit filed March 8, Clement is suing Ecolab, Inc., the company contracted by the restaurant to perform regular pest control, exterminator services and "proactive prevention."
PORN STAR CHRISTIANA CINN SAYS DOMINO'S PIZZA DELIVERY DRIVER OFFERED HER $200 FOR SEX
According to the lawsuit, Clement made multiple attempts to contact Ecolab during the summer and early fall of 2017, requesting they spray for spiders, but the company didn't respond.
Ecolab allegedly "knew the restaurant required immediate pest elimination and services" and "knew that spiders at the restaurant posed a threat to the health and safety of the restaurant's customers, employees and other visitors" but failed to perform their contractual duties.
Clement decided to take matters into his own hands and clean away the spiders from the outdoor dining area. In the process, he was bitten by a venomous brown recluse spider, causing him weakness, fever and nausea that resulted in three days of hospitalization, the suit states.
While the Oregon Department of Agriculture notes there are at least 500 species of spiders in the state, the most common being the hobo spider, giant house spider and western black widow, The Oregonian reports there aren't any brown recluses.
The suit claims that due to the spider bite and related symptoms, Clement was unable to return to work for an "extended period of time," resulting in lost wages.
While it's unclear how the plaintiff came up with the $999,999 amount, the suit states that damages include medical bills and related expenses totaling $25,000, in addition to lost wages during his recovering in the amount of $3,000, a lost bonus of $3,000 and loss of about two weeks' paid vacation worth $4,500.
FOLLOW US ON FACEBOOK FOR MORE FOX LIFESTYLE NEWS
"Plaintiff has also suffered non-economic losses and damages, including pain, suffering, anxiety and emotional distress, in an amount to be proven at trial," the suit reads.