Massachusetts Burger King removes sign about overdosing after complaints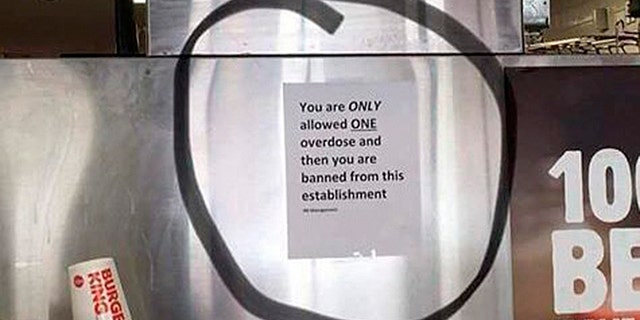 A Burger King in Massachusetts has removed a sign about overdosing after receiving backlash for displaying it.
The sign, which hung behind the counter of the Worcester location and was seemingly aimed at customers, read: "You are ONLY allowed ONE overdose and then you are banned from this establishment."
TACO BELL IN CALIFORNIA TRASHED AFTER DRIVER PLOWS THROUGH RESTAURANT WALL
Police told WBZ they met with the restaurant manager to discuss ways in which they could help.
This particular location of the fast-food chain sees a large amount of drug activity. "It's common knowledge, people do use those restrooms to do that sort of thing. There have been overdoses in there," a customer told WBZ.
According to a Mass Live report from October 2017, this Burger King near Kelley Square has had nine overdoses between September 2016 and September 2017.
Some believe the sign Burger King had hanging is a result of the stigma around drug use and addiction.
"We are in the midst of an opioid crisis and signs like this don't help," AdCare's Georganna Koppermann told WBZ. AdCare is a substance abuse treatment center that offers inpatient and outpatient services to those struggling with addiction.
Burger King told the news organization it is investigating the situation.
FOLLOW US ON FACEBOOK FOR MORE FOX LIFESTYLE NEWS
"The actions of this Team Member were an isolated incident and do not reflect the Burger King brand values or the values of the Franchisee, who independently owns and operates this restaurant," a Burger King spokesperson said. "The Franchisee is investigating this incident thoroughly and will take the actions they believe are appropriate."