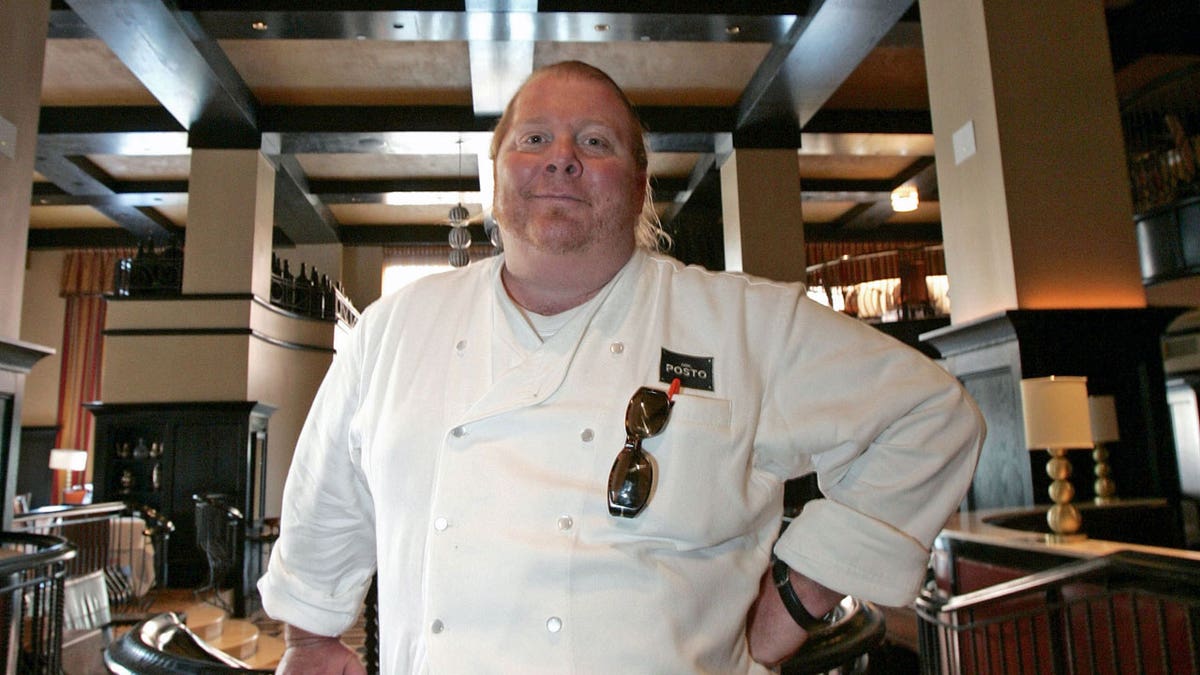 Iron Chef Mario Batali is in hot water — and not the kind he uses to prepare his perfectly al-dente pasta.
Isaac Franco Nava, an openly gay pastry chef who has worked at two of Batali's restaurants in New York City, is suing the owners of Batali's West Village eatery Babbo for discrimination based on his sexual orientation and race, reports the New York Daily News.
Franco's lawsuit, which was filed in Brooklyn Supreme Court last week, also named his manager and two of his co-workers, in addition to Batali and Batali's restaurant partner Joseph Bastianich.
MARIO BATALI LOADS UP ON A LIFETIME SUPPLY OF ORANGE CROCS
According to Franco, the discrimination started immediately after he began work at Babbo in November of 2015. (Franco had previously worked as the pastry chef at Batali's pizza restaurant Otto.) Nava says the defendants called him "girly" and referred to him as both a "f----t" and a "pájaro," which, according to the documents Franco filed with the Kings County clerk, is a Spanish word meaning "parrot," although it can also be used as a derogatory term toward homosexuals. Franco, who is Hispanic, says his manager and one co-worker made derogatory comments about his race, too.
"The abuse was open and notorious," states the lawsuit.
Furthermore, Franco is also accusing the restaurant's management of conspiring to get him fired after he repeatedly complained to the restaurant's head pastry chef.
Franco claims that his tormenters received only "minor discipline" after he complained, and that they "resumed [their] campaign of harassment and discrimination" shortly afterward.
After he continued to complain, Franco was told the issue would be escalated to Batali and Bastianich themselves.
BATALI SERVED UP ITALIAN CLASSICS AT OBAMA'S LAST STATE DINNER
Before hearing back, however, Franco says he was set up by a supervisor. On April 17, Franco claims he was given a raw pork chop to take home, as he had missed out on the "family meal" the eatery served to its employees that day before restaurant service began. But upon returning to work the following day, he says he was called into a manager's office, where he was accused of stealing the pork chop and asked to sign a document admitting guilt. Franco refused, but his employment was terminated.
"Had Plaintiff Franco been heterosexual and not complained about homosexual harassment, he would not have been fired," the suit alleges.
FOLLOW US ON FACEBOOK FOR MORE FOX LIFESTYLE NEWS
In a statement obtained by the Daily News, Franco's attorney Eric Baum added that Franco was very excited to work at Batali's restaurants, at least initially.
"Isaac is a proud member of the gay community and to be routinely harassed at work because of his sexual identity and race is completely unacceptable," Baum said. "He brought this lawsuit … to make sure this does not happen to any other employee."
According to court documents, Franco is seeking compensatory damages for lost wages, emotional stress, punitive damages and attorneys' fees, in addition to additional unspecified damages.