Mario Batali doesn't think $15 minimum wage is good for restaurants or foodies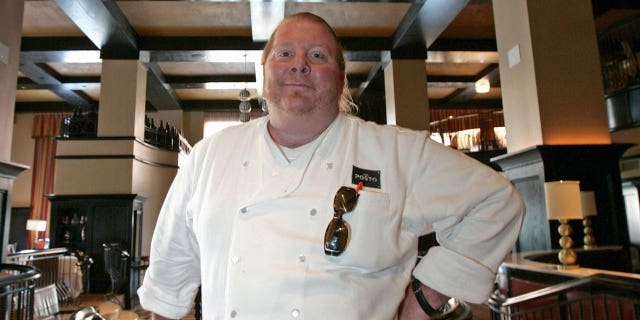 NEWYou can now listen to Fox News articles!
Celebrity chef Mario Batali isn't convinced that a minimum wage of $15 will be good for the restaurant industry.
Speaking at a Recode's Code Commerce event on Wednesday, Batali admitted that raising servers' wages to $15 per hour is "a fascinating way of looking at raising quality of life," but doesn't personally feel it's sustainable for the owners of smaller restaurants, reports Buzzfeed.
MARIO BATALI SUED FOR DISCRIMINATION BY FORMER PASTRY CHEF
"There's no question that raising minimum wage is a faster way to get people more money very quickly," said Batali in response to an audience member's question on the subject. "I think … the result of that, will be that quite quickly, the prices in restaurants who … are supported and basically run by people who [make] minimum wage will raise their prices."
"It's not without cost that we [raise wages]. That's all I'm saying," he said.
The celebrity chef argued that the restaurateurs themselves aren't to blame, as many of them are operating on very slim profit margins as it is. Hiking wages to $15 could potentially create as "30 percent increase in costs for the restaurant," he added.
Batali also believes that many restaurateurs will be forced to close if a $15 minimum wage — or a mandatory "no-tipping" rule — were to be instituted. He also cited a number of restaurants in San Francisco that were forced to shut down as the city's minimum wage rises toward $15.
MAINE RESTAURANT WORKERS SUCCESSFULLY LOBBY TO LOWER MINIMUM WAGE
"I know, in San Francisco, a lot of my friends are closing their restaurants because they went from 10 percent margin to 3 percent margin, or from 6 percent margin to 0 percent margin," he said.
"Idealogically," Batali said he's not against workers earning more money, but says it might be a while before the government and restaurant industry can find a way to make it "sustainable for us to operate."
"At the end of the day, they will settle quickly and things will find some resolution," said Batali. But more specifically, he believes the restaurant industry will have to eat those costs and charge accordingly.
"It's gonna happen. It's gonna cost 50 bucks to go to a restaurant pretty soon in America."
FOLLOW US ON FACEBOOK FOR MORE FOX LIFESTYLE NEWS
Batali currently co-owns several restaurants throughout the United States, Singapore and Hong Kong. In 2012, Batali and his restaurant partners were accused of withholding tips from nearly 1100 restaurant workers, and ultimately settled out of court for $5.25 million. In 2017, however, Batali once told LinkedIn that workers at Babbo and Del Posto — two high-end Italian restaurants he co-founded with Joe Bastianich — earn up to $130,000 per year.