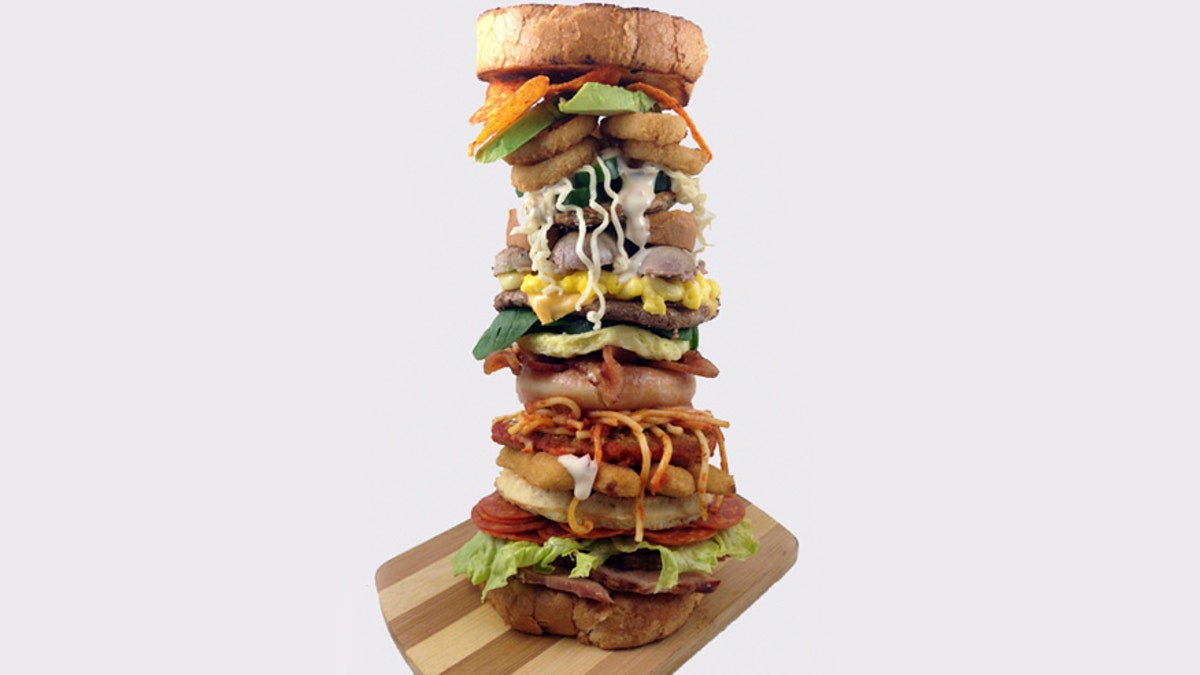 For those of you who love burgers and have trouble remembering the alphabet, you're in luck.
Nick Chipman of Milwaukee, Wisc., who runs the blog Dude Foods, has created a sandwich that has 26 different toppings, each one starting with a different letter of the alphabet.
"It probably took just around an hour to make, mainly because I was just working as fast as possible because I was worried that it would just completely topple over as I was making it, which luckily didn't happen," he wrote in an email to FoxNews.com.
Chipman made headlines last year as the brains behind another epic sandwich creation – the "McEverything," which was comprised of every sandwich on the McDonald's menu.

Like with the "McEverything," Chipman managed to eat what he made.
"After it was done and I took a couple pictures I sort of just disassembled it and ate everything over the course of a day," he wrote. "As an idea it was great, but it wasn't really too functional as an actual sandwich since it was probably about a foot and a half tall."
Without further ado, here is what was on the sandwich:
Avocado
Bacon
Cheese
Doritos
Egg
Fish sticks
Garlic bread
Ham
Italian sausage patty
Jalapeño peppers
Krispy Kreme doughnut
Lettuce
Macaroni and cheese
Noodles
Onion rings
Pepperoni
Quest blanco dip
Ramen noodles
Spinach
Turkey burger
Usingers bratwurst
Veal Parmesan
Waffle
Xylocarp (coconut)
Yams
Zucchini