Mall Santa with 'Naughty' and 'Nice' tattoos told to tone it down this year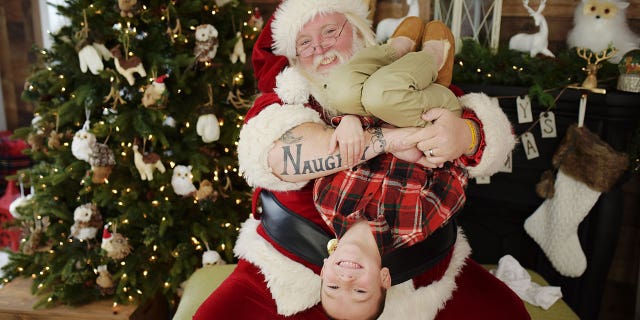 A mall Santa in Pennsylvania has been told to tone down his silly image — and cover up his tattoos — by the people in charge of the facility's holiday program.
Scott Diethorne, who also works as a truck driver, has been working as a mall Santa in Philadelphia-area malls for two decades, where he would pose for photos with local children and flash his "Naughty" and "Nice" forearm tattoos upon request. He was also known to hang kids upside-down in their photos if they wanted, Philly.com reports.
THE HOTTEST NON-TECH TOYS OF THE 2017 HOLIDAY SEASON
This year, however, patrons showed up at the Oxford Valley Mall in Langhorne only to learn that Diethorne was limited to taking only "traditional" Christmas photos with guests — no tattoo pics or upside-down poses.
The new edict reportedly comes straight from Cherry Hill Programs, the company that runs the Oxford Valley Mall.
"During this special time of year, we are focused on delivering a magical holiday experience," said Cherry Hill Programs in a statement obtained by Philly.com. "We remain dedicated to preserving the tradition and image of Santa with authentic holiday visits for every guest to our programs."
'LADDER TREES' ARE THE BIZARRE CHRISTMAS TREND YOU NEVER KNEW EXISTED
Diethorne's fans are understandably upset by the news, especially those that return year after year to pose with "Santa Scott." One woman, Amanda Nagy, even took to Facebook to encourage others to complain about the restrictions imposed on Diethorne.
Nagy, who brings along her pet snakes to pose with Santa Scott, also pointed out how a local photography studio would be hosting an "uncensored session" with Diethorne this week, for anyone interested in snapping a photo with Diethorn and his tats.
FOLLOW US ON FACEBOOK FOR MORE FOX LIFESTYLE NEWS
In the meantime, Diethorne, 50, is still working as Santa at the Oxford Valley Mall, where fans are coming in for photos anyway.
The Associated Press contributed to this report.