Maine restaurant with 40 seats receives 10,000 calls in just 24 hours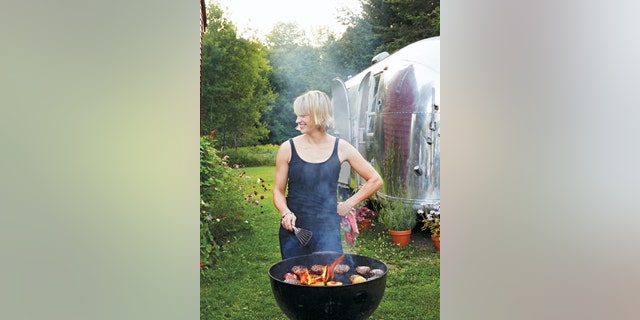 Erin French runs a 40-seat restaurant called The Lost Kitchen in an old mill in a tiny town in central Maine. She began accepting reservations for the season at midnight April 1, expecting a few dozen calls overnight. Instead, she got 10,000 in 24 hours.
Calls came in so fast that it overwhelmed her three phone lines, which hold just 40 messages. Alarms went off when emergency lines to the fire department were blocked. "This is bigger than us," French posted on Facebook sometime after midnight. "Thousands of calls pouring in."
Word of mouth, a few magazine mentions and a Tastemade video that got 2 million views (and won a James Beard media award) have helped turned French into a culinary star. It's quite a triumph for a woman who grew up in Freedom, Maine, population 700, working in her dad's diner.
"The fear was no one was going to show up," French said. "Now the fear is there are too many people."
CHECK OUT THE FULL LIST OF 2017 JAMES BEARD FOUNDATION AWARD WINNERS
She's also got a cookbook coming out May 9 from Clarkson Potter called "The Lost Kitchen," offering recipes for everything from mussels to moose stew - as well as the story of her unusual journey.
French started in 2010 with a $40-a-meal supper club in her apartment. At first, "I had to beg friends to come over," she said.
But word spread and by the fifth dinner, all her guests were strangers. She opened a restaurant with her husband in Belfast, Maine, but that business closed in a messy divorce.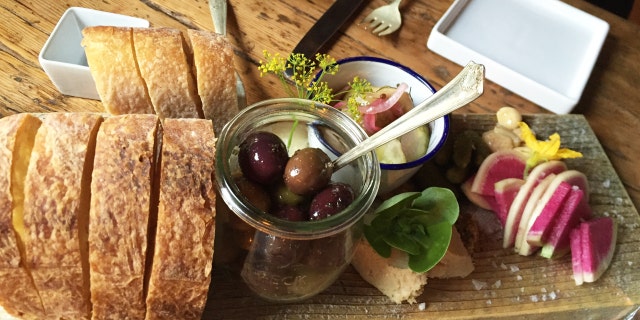 She started over using a 1965 Airstream to give pop-up dinners. In 2014, she opened The Lost Kitchen in an abandoned 19th century mill that had been restored by a businessman who wanted to help the local economy. French's restaurant, using ingredients grown by local farmers, was the perfect tenant.
French, 36, has been featured by Martha Stewart, Food & Wine and L.L. Bean, which co-produced the Tastemade video and made her a brand ambassador. Still, she wasn't prepared for the avalanche of calls, from locals to folks from Texas, Alaska and Ireland. The calls were returned one by one until 1,500 reservations were filled for her May through New Year's Eve seatings.
Dinner at The Lost Kitchen, while pricey for Maine, wouldn't raise eyebrows in New York or Boston: $100 per person plus tax and tip for six to eight courses. The menu depends on what the farmers, fishermen and fields have to offer. A menu from last summer included tomato soup, melon salad, cheese, sea bass, corn, cherry tomatoes, baby fingerlings, arugula, polenta cake, grilled peaches and blackberries.
But The Lost Kitchen isn't just about food. "It's the mystery, the excitement," French said. "There's something a little scary. You don't know where you're going. You don't know what you're going to have for dinner. You're going on an adventure."
Lisa Eberhart came from Virginia to eat there. "You would never find this place," Eberhart said. "There's no lights on that road in the dark. It's in the middle of nowhere. There's no sign. You can't even see it. You're going through the woods over a footbridge. I said to my husband, 'This is the craziest thing.' But it was worth every bit of it. This to me was a once in a lifetime experience. It was magical."
Freedom does not permit restaurants to serve alcohol, but BYOB wine is permitted, so French's mother runs a wine shop onsite. With a staff of a half-dozen, French cooks and serves, and at some point each night, stands up to explain "how that menu came together." Then she gives thanks and toasts with her guests, "just as you would if you were at a friend's house."
FOLLOW US ON FACEBOOK FOR MORE FOX LIFESTYLE NEWS
Thomas Delle Donne, assistant dean at Johnson & Wales' College of Culinary Arts in Rhode Island, says The Lost Kitchen is part of a subculture: "These dinner clubs and pop-up restaurants and underground concepts play right into that celebrity status that chefs have. Having something private and in the know is like going to see a band play at an underground club where you have to know the drummer to get in."
French's story is particularly inspiring. "She lived in an Airstream, she came from the bottom and like a flower, burst back into this thing. It gives people hope," he said.
Success has brought invitations to expand. "You can have airport kiosks! You could be like Shake Shack with something on every corner!" French said. "I had 'Top Chef' call me and say, 'You'd be the strong female in the season.' And I said no. I'm being my authentic self. I literally started with nothing. I begged and borrowed. It's been a slow payback. But right now I'm surviving pretty well."