Maine officials deny PETA request to erect gravestone in memory of lobsters who died in truck crash
Maine officials on Thursday denied a recent request from the People for the Ethical Treatment of Animals (PETA) to erect a memorial to remember the lobsters that were lost in a crash last week.
MONKEY ESCAPES ZOO, FLEES TO MCDONALD'S
PETA had hoped to erect a 5-foot gravestone to memorialize the "countless sensitive crustaceans" who were killed during the Aug. 22 crash in Brunswick, the animal rights group said.
Police said 7,000 pounds of live lobsters were destroyed, and it's suspected more than 4,500 lobsters died, according to the Portland Press Herald.
However, Maine Department of Transportation officials said they had to turn down the request, citing safety concerns and regulation rules for busy highways like Route 1, where the crash occurred.
"Control-of-access areas may have a very high volume of car and truck traffic as well as a high speed limit that could create a potential hazard to motorists should development and signs be allowed in these sections," the officials wrote in a letter to PETA, according to Boston.com.
BIKINI BARISTA COFFEE CHAIN DRAWING CRITICISM FOR SKIMPY OUTFITS
The grave would have reminded "everyone that the best way to prevent such tragedies is to go vegan," the animal rights group said. A mockup of the gravestone shows a lobster with the words, "In Memory of the Lobsters Who Suffered and Died at This Spot."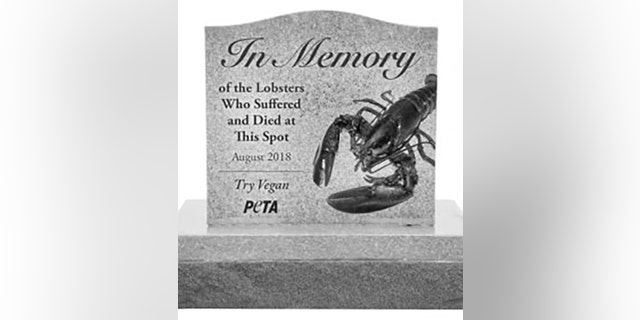 FOLLOW US ON FACEBOOK FOR MORE FOX LIFESTYLE NEWS
PETA also sparked controversy last week when the group erected a billboard in Maryland encouraging people to "go vegan" and stop eating crabs.
PETA said the sign was put up as "part of a nationwide campaign to encourage diners to leave crabs and other sea animals off dinner plates and in their aquatic homes."