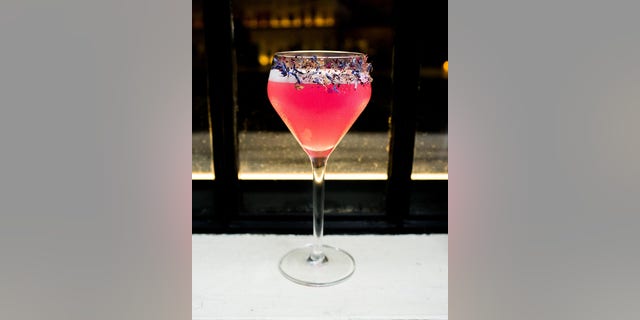 NEWYou can now listen to Fox News articles!
In creating this cocktail, bartender Veronica Correa says she, "drew inspiration from 17th century Dutch artist, Clara Peeters. Love in a Mist is inspired by the main flower depicted in one of her most notable artworks... Love in a Mist highlights the notes of Turkish Rose in NOLET'S Gin, making it the perfect summer sipper!"
Cook Time:
Prep Time:7 min
Total Time:7 min
Servings: 1
Ingredients:
1.5 oz NOLET'S Silver Gin
.5 oz lemon juice
.5 oz pineapple juice
.5 oz Blanc Vermouth
.25 oz spiced hibiscus syrup (method below)
Aromatized black lime-peppercorn tincture (method below)
Preparation:
Shake all ingredients except black-lime peppercorn tincture with ice and strain into a tulip glass.
Express the tincture over the top and garnish half the rim with cornflower and rose petal.
Peel the skin of 6 oranges with as little pith as possible, add peels to a sealable container.
Add 12 oz of white sugar, mix to combine, cover, and let sit overnight to extract the oils.
Just before removing, create spiced hibiscus tea by soaking 5tbsp of hibiscus leaves and 2 cardamom pods in 5 oz of cool water for 10 min.
Once finished, strain out hibiscus tea, remove the orange peels from the Oleo-Saccharum, and add the tea to the Oleo container.
Stir to combine. Yields: roughly 1 quart
Soak 6 Black Limes and a tablespoon of black peppercorn in 1 cup of Vodka for several hours until flavor is extracted to your liking.