Little Caesars customers claim employee wrote 'gay' on receipt: 'We're still having to deal with this'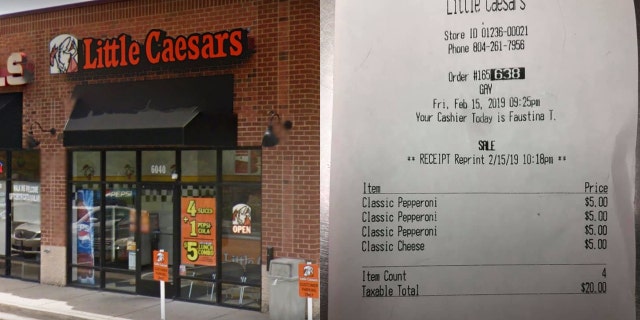 Little Ceasars has confirmed the firing of an employee at a Virginia restaurant after the worker allegedly wrote "gay" on a receipt in place of the customers' names.
Cousins Rosman Harris and Marcus Robertson say they visited the Henrico County restaurant on Friday and placed an order for takeout. They also said they were not asked to provide a name for their order, despite other patrons doing so, WTVR reported.
RESTAURANT APOLOGIZES AFTER PATRON COMPLAINS OF 'INCREDIBLY RACIST' RECEIPT
Upon receiving the pizza, Harris spotted the word "gay" where the order name should be. The cousins then escalated the incident to the manager, but did not get an answer as to why the word was on their ticket.
The two returned to the store over the weekend, and claimed the employee that filled out the receipt was still working. They also allege that the manager tried to blame the incident on Harris, saying he was being "loud" and "rude" during the pair's Friday visit, according to Robertson.
"I was baffled, and it made me semi-angry because I feel like it's 2019 and we're still having to deal with this," Harris told WTVR. The two also confirmed to the outlet that they are gay, though they did not discuss this with anyone while inside the restaurant on Friday.
A spokesperson for Little Caesars has since confirmed the employee responsible was terminated.
"Little Caesars maintains a zero-tolerance policy against any violations of professional conduct," said Tina Orozco, the director of communications for Little Caesars, said in a statement obtained by Fox News.
FOLLOW US ON FACEBOOK FOR MORE FOX LIFESTYLE NEWS
"This is a highly unusual, isolated situation at a store locally owned and operated by a franchisee," the statement added. "The franchise owner took immediate action to investigate this matter and has terminated the employment of the individual involved in the incident."