Kid Rock promotes American Badass Grills by shooting at foreign-made competition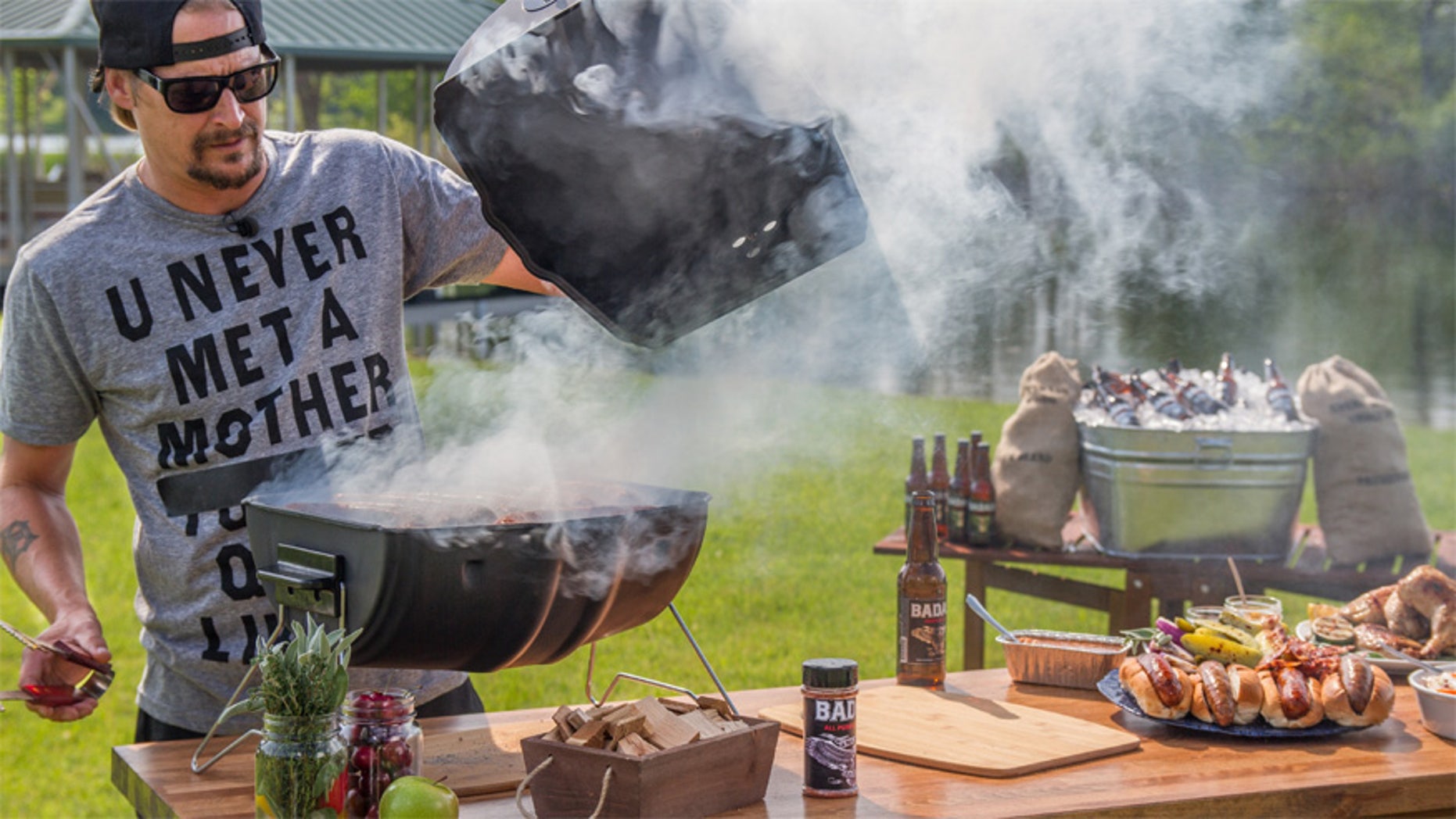 Just a week after announcing his new American Badass portable grill, Kid Rock is literally blasting away his competition.
To start grilling the competition, the Detroit-based musician released a promotional video in which he and a friend use a foreign-made grill — supposedly from China — for target practice.
"You know what's American? Catapulting foreign-made grills through the sky and shooting them down because they stink," says Rock's friend at the top of the video. "If it's not made in America like the Kid Rock American Badass Grill, you don't want it."
The woman then deploys a nearby catapult, which launches a foreign-made grill across the sky.
THIS COMMON GRILLING TOOL COULD SEND YOU TO THE HOSPITAL
Rock, stationed nearby with a shotgun, starts firing at the airborne grill. "This is what we think of 'Made in China,'" he says as he sets the grill in his sights.
"Woo! In your face, China!" proclaims Rock after he's shown blasting away at the grill.
American Badass Grills, which the rocker touts as being "100 percent" American-made, are helping to provide jobs for the American labor force.
"I'm not gonna lie. It is more expensive to make things in America. But it's important to me," Rock stated in a press release. "I love America, and I want to do all I can to create manufacturing jobs at home."
According to their official website, Rock's charcoal American Badass Grill ($99.95) is "100-percent made in the U.S.A.," while the gas variety ($149.95) is made with "more than 90-percent U.S. parts and labor."
Both varieties offer 200 square inches of grilling space, capable of holding "twelve burgers all at once — or three beer-can chickens."
FOLLOW US ON FACEBOOK FOR MORE FOX LIFESTYLE NEWS
Rock's grill-blasting video isn't the first time he's taken aim at foreign products since entering the barbecue game. In a promotional clip released earlier this month — simply titled "Boom!" — the musician-turned-entrepreneur can be seen firing a .50 caliber rifle at a Chinese-made grill.
Rock's American Badass Grills are currently available online, but the company says they will be coming to brick-and-mortar outlets "at a later date."