KFC Singapore offering chicken sandwich with mac and cheese 'bun'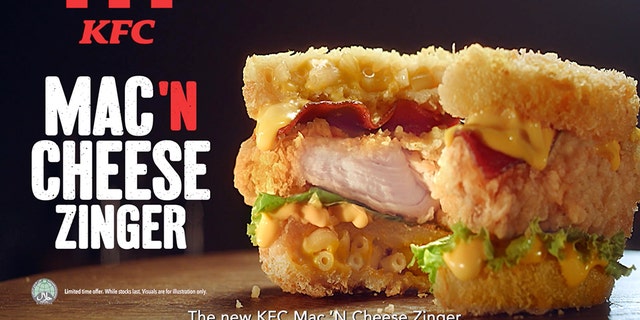 A new KFC delight has social media buzzing.
KFC Singapore released a new twist on its chicken zinger this week: A sandwich featuring a fried mac-and-cheese bun with fried chicken in the middle, along with turkey bacon, lettuce and cheese sauce.
KFC TESTING CHEETOS SANDWICH WITH FRIED CHICKEN AND 'SPECIAL CHEETOS SAUCE'
The fast-food restaurant billed its new product as "your favorite comfort food."
"Mac 'N Cheese molded into cheesy patties then fried to crispy perfection, combined with signature KFC Zinger fillet, crispy turkey bacon, lettuce and KFC cheese sauce," the website explained of the offering.
The new treat seemingly had social media salivating, too.
CLICK HERE TO GET THE FOX NEWS APP
Unfortunately, the fresh fast-food delicacy is only available in Singapore for a limited time. It's unclear whether it will be making a U.S. debut.