KFC South Africa pokes fun at Neymar's rolling with World Cup commercial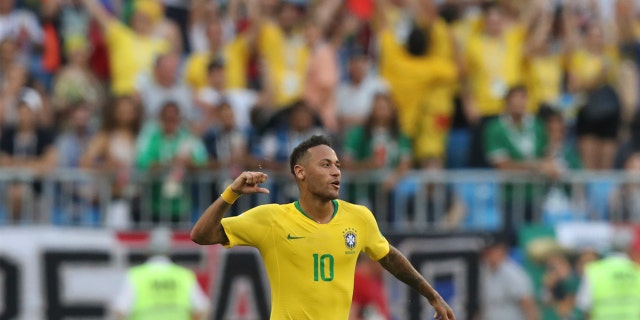 KFC in South Africa is cashing in on the World Cup by taking a jab at Neymar and his infamous flops in its latest advertisement.
The fast food chain joined the many others calling out the Brazilian soccer player for his over-the-top acting. Fouls on the striker often lead to him writhing on the ground in pain, leaving even those in the acting world aghast at his antics.
UFC FIGHTER MATT SERRA SUBDUES 'DRUNK' AT LAS VEGAS RESTAURANT
"Neymar does what all beginning actors do. They oversell the event," Jim Calder, who teaches acting at New York University's Tisch School of the Arts, told the New York Times.
The star player's acting abilities were even more evident when he dramatically reacted to having his foot stepped on during Brazil's 2-0 win over Mexico Monday. Prior to that, during the game between Brazil and Serbia, he flopped to the ground and rolled round after being knocked off his feet while going out of bounds, Sports Illustrated reports.
Neymar's now famous reactions have quickly turned into a number of viral memes circulating social media, and seem to have made their way into a KFC commercial, as well.
In the minute-long spot, shared on Twitter by soccer enthusiast Jack Grimse, a Neymar-esque player is seen rolling around violently on the field, then out of the stadium, down the street, across a bridge and all the way to KFC for some chicken.
FOLLOW US ON FACEBOOK FOR MORE FOX LIFESTYLE NEWS
While the fast food chain never explicitly references the soccer player, it's clear to fans the marketing people behind the ad wanted in on the fun.