KFC promoting three new gravy-infused cocktails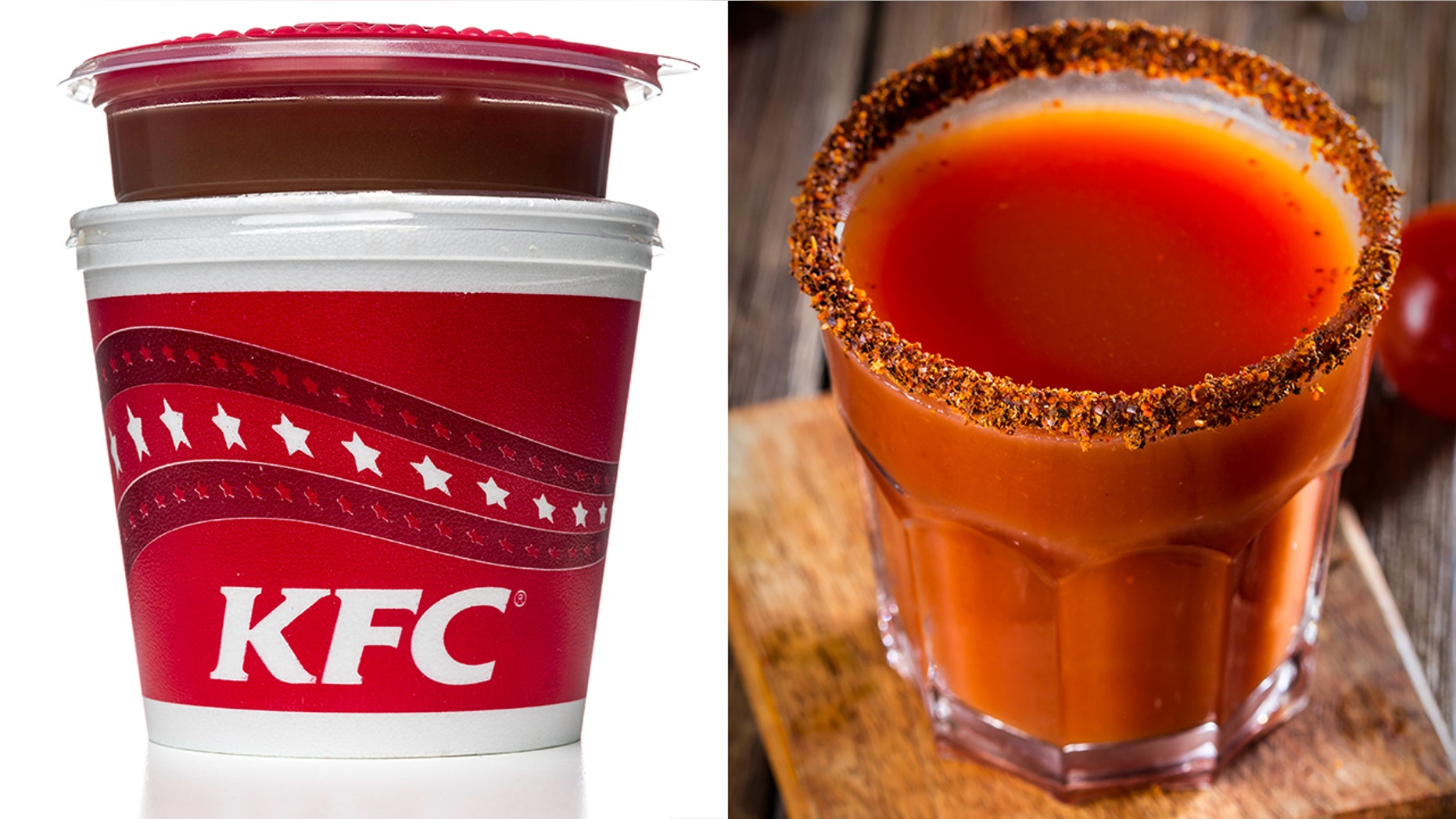 Can't get enough of KFC's gravy? Well, thanks to the chicken chain's latest marketing campaign, you've now got a whole new way to enjoy their savory sauce.
The fast-food restaurant just released a video featuring three cocktail recipes designed around their famous gravy. You read that right. These "stock-tails" offer a boozy drinkable twist on their thick meaty condiment.
MAN'S KFC CHICKEN BUCKET HACK GOES VIRAL
There's been a growing trend for stock-tails, using broth in cocktails, over the last couple of years. "Bartenders are stirring and shaking animal stock and bone broth into cocktails served warm and chilled to add a new savory element to seasonal drinking," according to a feature from Liquor.com on the trendy drink.
KFC cooked up three varieties of this new kind of drink: the Gravy Mary, Southern Twist and Fingerlickin' Sour, with the tagline "Gravy so good you can drink it."
"Our fans repeatedly express their love for our gravy, which always sparks ideas within the team. We know our gravy is good enough to drink – so with 'stock-tails' being a real hit at the moment, what better ingredient to take them to the next level?" Marion Racine, marketing manager at KFC UK & Ireland, told The Independent.
Not everyone seems sold on the idea, however.
"[You're] insane," one commenter wrote.
"KFC you have officially lost it," another added.
"I'm confused," another user wrote.
If you're curious how these cocktails actually take, KFC provided step-by-step instructions and recipes for all three drinks so you can try them out for yourself.
The Gravy Mary
Ingredients:
20ml KFC Gravy
50ml vodka (optional)
90ml tomato juice
1 tsp horseradish cream
20ml worcester sauce
15ml lemon juice
Hot sauce
Paprika, celery salt, pepper
Highball glass
Ice
Celery
KFC Popcorn Chicken
Method:
Put paprika, celery salt horseradish, hot sauce & Worcester sauce in a cocktail mixer.
Add vodka (optional), lemon juice, tomato juice & KFC Gravy.
Throw cocktail between two mixers.
Pour over ice into a highball.
Garnish with celery & KFC popcorn chicken.
Recipes for the other two cocktails can be found on Youtube.
FOLLOW US ON FACEBOOK FOR MORE FOX LIFESTYLE NEWS
?This isn't the first time KFC has used unusual marketing techniques. Late last year, KFC Japan was offering chicken scented bath bombs. The drumstick-shaped product was crafted with "eleven secret herbs and spices," allowing you to soak in deep-fried scented glory.