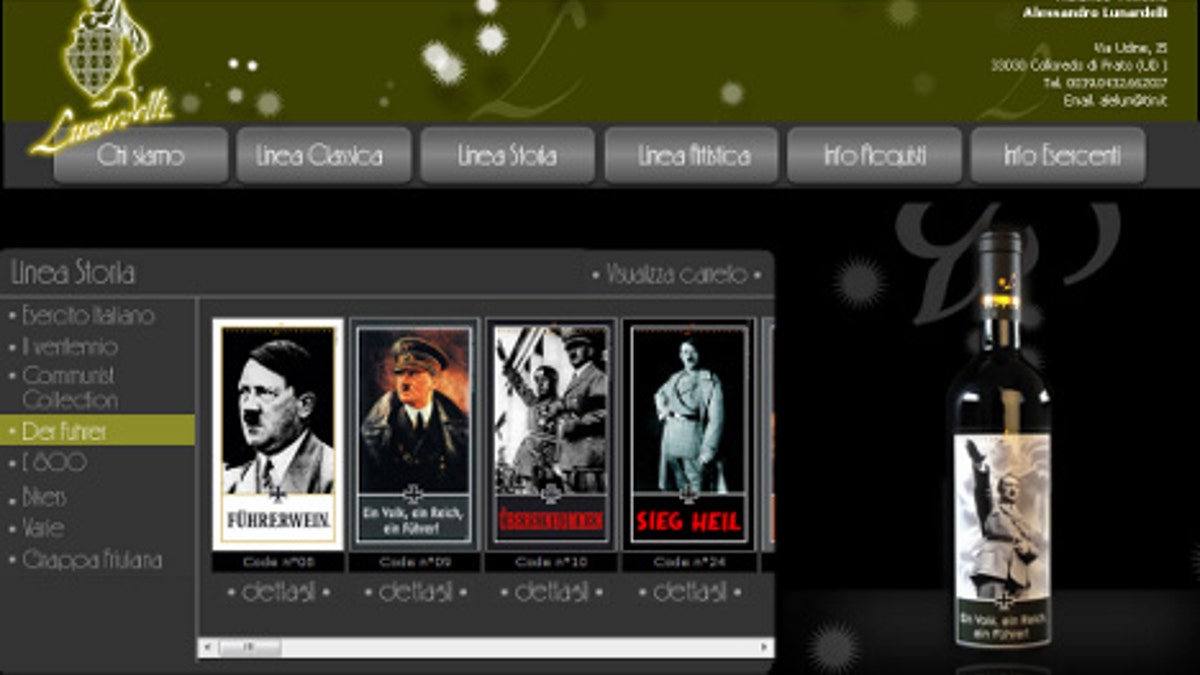 The Simon Wiesenthal Center has called for a global boycott of an Italian company that sells wines featuring images of Adolf Hitler and Nazi slogans on its labels.
"Enough is enough," said the center's Marvin Hier and Abraham Cooper in a statement. "We first protested the marketing of 'Führerwein' by an Italian-based company in 1995. Now an expanded line of wines that demean, diminish and mock Hitler's victims are promoted on a slick website.
The move by the human rights group comes after a Norwegian couple visiting the coastal town of Rimini this week said they were shocked to discover controversial wines produced by Vina Lunardelli in the country's northeast. Last year the same wines were removed from a Veronese supermarket after a U.S. attorney on vacation in Italy saw the wines.
The "Historical Series" of wines is produced by Italian winemaker Vini Lunardelli in Udine, Italy. According to its website, the labels are part of a line of wines that "remind us of the lives of celebrated personages of Italian and world political history," such as Che Guevara, Adolf Hitler, Karl Marx, and Benito Mussolini --even former U.S. President Jimmy Carter.
According to the U.K's Telegraph, local prosecutors said they have opened an inquiry into the sale of the wine bottles, saying that it compromises the image of Italy abroad.
"I want to reassure our American friends who visit our country that our Constitution and our culture rejects racism, anti-Semitism and Nazi fascism," said Andrea Riccardi, the Italian integration minister.