Jamie Oliver says he'd let his kids eat McDonald's if they wanted to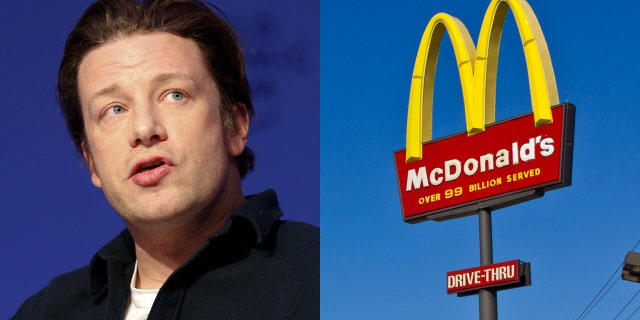 NEWYou can now listen to Fox News articles!
Jamie Oliver has long been a proponent of providing children with healthier, better-quality meals in their school lunches and at home, making his most recent statements about allowing his kids to eat at McDonald's all the more surprising.
Oliver, who just launched a new campaign against fast-food advertising called #AdEnough, has admitted that his kids are free to go to McDonald's if they so choose, despite his own aversions.
"If they wanted to go, I'd let them. Because they get really well fed 95 percent of the time from us. If they want to go out and have a fizzy drink I don't care, because we have none in the house," said Oliver, according to The Telegraph.
MARIO BATALI SAID TO BE 'EXPLORING' OPTIONS FOR POSSIBLE COMEBACK
The celebrity chef said his wife Jools, on the other hand, might not be as lenient.
"My wife's probably stricter," Oliver said. "She'd say, 'Oh please, don't.' But they'd only end up doing it in some other place."
Oliver launched his most recent crusade against fast food — called #AdEnough — on Tuesday, to combat what he says is the junk food industry's "relentless" efforts to advertise their products to children.
"If you've had enough of the bombardment and the targeting of junk food advertising to British kids, then you can get involved right now," says Oliver in a Twitter message, adding that he's also working with lawmakers to change regulations for how these foods can be marketed.
MARTHA STEWART TO JOIN FOOD NETWORK'S 'CHOPPED'
He also asked supporters to "simply take a selfie of you covering up your eyes" and share it to social media with the hashtag #AdEnough, "because frankly, the only thing that's going to keep your kids from seeing junk food advertising is [covering their eyes]," he added.
Oliver's previous efforts to provide more wholesome food to kids has been documented in TV series such as "Jamie's School Dinners" and "Jamie Oliver's Food Revolution," the latter of which covered Oliver's attempts to teach Huntington, W.Va. — the "the unhealthiest city in America" — to change its eating habits. In the show, he also spoke out about the "pink slime" used at fast food restaurants.
FOLLOW US ON FACEBOOK FOR MORE FOX LIFESTYLE NEWS
In 2005, following his BBC series "Jamie's School Dinners," Oliver was credited with helping convince the British government to spend 280 million pounds (approximately $400 million) on better ingredients for school meals, the BBC reported.