Humongous hot dog goes for a Guinness world record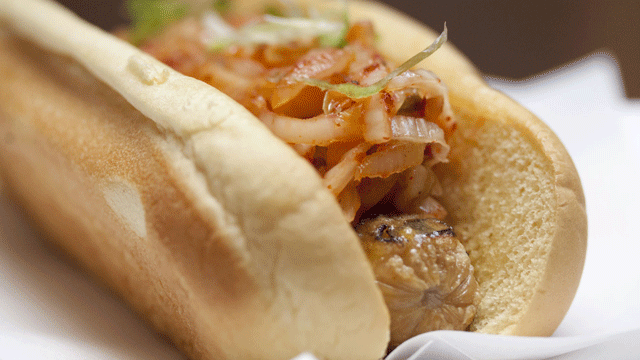 That's one heck of a hot dog.
A restaurant owner grilled up a massive 125.5 pound hot dog he's hoping will nab a new Guinness World Record.
Weighing in at 125.5 pounds—including the gigantic bun, sliced onions and gallons of condiments – Brett Enright, founder and CEO of Juicy's Outlaw Grill in Corvallis, Oregon, spent three hours cooking up the massive dog on a 100-foot mobile grill, The Miami Herald reports.
The hot dog, which naked weighed 51 pounds, was grilled up and sold at the Miami-Dade County Fair and Exposition on Friday. Pieces of the mammoth hot dog were sold for $1 to benefit Miami Rescue Mission, an organization that provides food and other services to the homeless in South Florida.
The final weight has been sent to Guinness so the wiener can officially be named the world's largest hot dog commercially available.
This isn't the first time Enright has had his buns achieve superlative status. He already holds the Guinness record for largest commercially available hamburger, a 777-pound behemoth that costs $5,000 and needs to be ordered two days in advance.