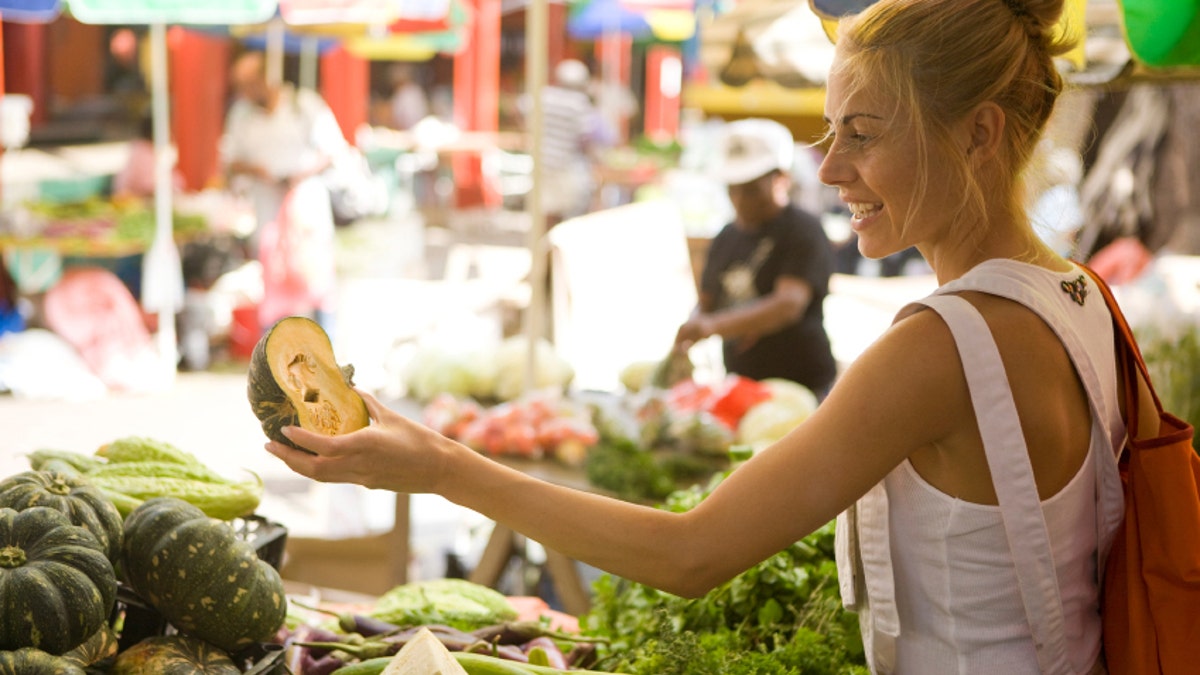 Leading the way through the hubbub of the Santa Monica farmers market, Michael McCarty stops a young man passing by. Turning him toward the small group that has been following him among the vendors, McCarty places a hand on his shoulder and proclaims him the master of duck prosciutto. "I go every week and buy some to bring home," he says. We all make notes to visit Norcino Salumeria at the relatively new Santa Monica Place.
Made up of tourists and locals, the small group that accompanied McCarty one early weekday morning in March was eager to hear not only about the jumbo asparagus from Zuckerman's Farm highlighted by that month's Market Meet-Up but also the longtime restaurateur's war stories from his years in the industry. See, the list of chefs who've manned the various stations in the kitchen of Michael's in Santa Monica reads like the Page Six of Los Angeles' top chefs.
Out on the lush patio, McCarty, a Cordon Bleu graduate himself, held court and regaled us with tales like how Nancy Silverton and Mark Peel met in the sweaty depths of Michael's kitchen, where Silverton had risen through the ranks to become the master baker she later became known as. Soon, chef John-Carlos Kuramoto arrived tableside to talk about the two dishes — stages for the main character, the jumbo asparagus that arrived heralding spring (as least for lucky West Coasters). There was an asparagus gelée that soothed the spicy, tart kimchee-style salad of asparagus, and then a "green eggs and ham" dish combining runny egg with a spinach purée, jamón Serrano, and lightly cooked spears, paired with two separate white wines.
The monthly Michael's Market Meet-Ups give diners a chance to experience the market the way a chef does; to get excited about a new seasonal item and be inspired by what looks great at the market that morning. And this experience isn't only available in Los Angeles — farmers market tours and talks with chefs are cropping up across the country. ($75 for tour and tasting. To book call: 310-451-0843).
Here are a few examples that are worth checking out:
Also at the Santa Monica Farmers Market, the Follow that Chef Series, organized by the Gourmandise School of Sweets & Savories, pairs chefs with diners that want to see where their restaurant meals are coming from, and gives a sampling of what's fresh at the market and at the school.
Throughout the Washington, D.C., area, FRESHFARM Markets organizes a series of events called Chef at Market that feature local chefs from both neighborhood staples and acclaimed restaurants, like those of chef José Andrés, giving cooking demos, talks, and tours.
Green City Market in Chicago hosts a bevy of demonstrations from chefs at well-known area restaurants like Spiaggia and Frontera Grill.
Seattle's Pike Place Market is a landmark unto itself, and its very active nonprofit foundation, the Market Foundation, holds a seasonal chef's tour fundraiser. For $75, guests will shop the farmers market with a local chef and then watch a cooking demo and sample the food.
The Ferry Plaza Farmers Market in San Francisco is administered by the Center for Urban Education about Sustainable Agriculture, which organizes a number of weekly chef demonstrations in their on-site "classroom" as well as a series of talks that take place in the Ferry Building.
At New York's New Amsterdam Market, artisanal food producers are the stars of the show. The market, open again at the end of April, had a season full of quirky events like the Peck Slip Pickle Fest and the Hard Cider Revival, which showcased the methods and skills of food artisans, who, while they aren't exactly "chefs," definitely know their way around a kitchen.
More from The Daily Meal:
18 American Foods you have to Travel for
10 Wild Dunkin Donuts Flavors Around the World
Eating Your Way Around South America