How to pack a healthy and fun school lunch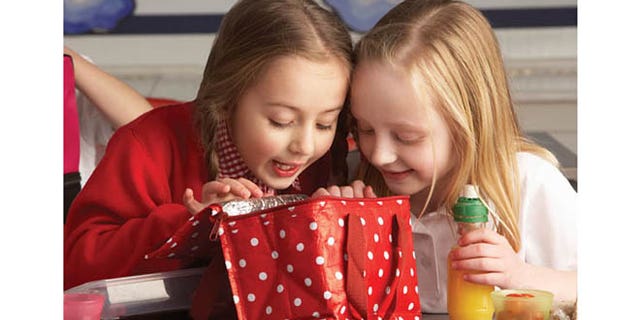 Are you and your child sick of the same old ham and cheese sandwich? Here are some healthy and creative tips for revamping brown bag lunches:

Packing a balanced meal
Heather Stouffer, the founder of Mom Made Foods, recommends going by the MyPlate nutrition guide, which replaced the old food guide pyramid in 2011. The graphic looks like a place setting with the recommended servings of different food groups to help you visualize your child's meal.
"You'll want about half of your child's meal to be fruits and vegetables; about one-quarter should be grains (try whole grain bread for their PB&J sandwich!) and the other one-quarter a high-quality protein such as meat, eggs or beans," Stouffer says. "Because kids bones are growing, you should always include plain low-fat or fat-free milk at lunchtime."
Janet Colson, a professor of nutrition and food sciences at Middle Tennessee State University, has the same suggestions when it comes to nutrition and portions, but her philosophy differs on what you should send your child to school with versus what he or she should buy in the cafeteria. She is in favor of sending peanut butter and other nut-butter on whole grain bread when packing sandwiches for lunch.
"Sandwiches with meat, eggs, or cheese pose a food safety risk if not refrigerated properly," she says. Colson does add that "packing a meat-filled sandwich in a thermal lunch box with an ice pack can solve this problem."
She says that it is easier and works out to be cheaper if you allow your child to buy milk from the cafeteria rather than trying to send it from home and keep it cold. She says that water is the most logical and healthiest choice as far as beverages go, especially if your child's weight falls in the overweight or obese category.

Presentation counts
Stouffer suggests using fun-shaped cookie cutters on food like slices of cheese, cucumbers and bread. You can also add little personal touches.
"My son is in 1st grade and is a good reader so I like to put a funny drawing or a note in his lunch too. I'm continuing a tradition my mom used to do for me," Stouffer adds.
Peggy O'Shea, a registered dietitian and mother of three young children, suggests making peanut butter pumpkin and jelly sandwiches. Mix one tablespoon of peanut butter with one tablespoon of canned pumpkin for extra vitamins and fiber. Spread it on bread with low-sugar jelly or pumpkin butter. You can even cut the sandwich with a pumpkin-shaped cookie cutter. She also suggests packing something her 4-year-old has dubbed "sandcastles." Scoop some hummus into the bottom of a container and position some carrot sticks in vertically.
"It looks cute, and when they pull the carrot sticks out, they've already got a dip of hummus," O'Shea says. "You can use sugar snap peas too for a more colorful castle."
Denice Ferko-Adams, the director of Villanova University's MacDonald Center for Obesity Prevention and Education suggests placing a washed celery stick in the middle of a rollup of low-fat lunch meat and cheese. She advises serving these fun rollups with some toasted pita chips, red hummus or green edamame dip and low-sugar yogurt with fruit for a balanced meal.
For more nutritious lunch ideas and tips for keeping your child's food safe, check out LetsMove.gov and the USDA Food Safety and Inspection Service's websites.