How to make creamy cheesecake without the calories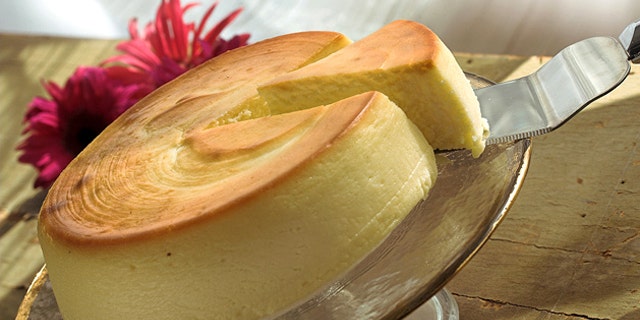 Although delicious, cheesecake has become a downfall of dieters everywhere. A slice of original cheesecake from Cheesecake Factory reportedly sets you back 710 calories. Here are some ways to enjoy creamy cheesecake without the crippling calorie count.

Use diet-friendly ingredients
There are a few ways to lower the number of calories in cheesecake. Some recipes call for fat-free or low-fat cream cheese in place of the full-fat version. When making the crust, you can use reduced-fat graham crackers. If you are craving some authentic-tasting New York-style cheesecake, try replacing the regular sour cream with the low-fat variety. You can substitute low-fat or skim ricotta for a lighter take on Italian-style cheesecake.
You can also try using an egg substitute instead of whole eggs. Egg Beaters' "Skinny Cheesecake" recipe includes fat-free small curd cottage cheese, fat-free cream cheese, granulated sugar, grated lemon peel and fresh lemon juice in addition to the egg substitute. One-ninth of the cake, or one serving, contains only 116 calories and 1 gram of fat- including the graham cracker crumb crust.
Another calorie-saving trick is to use a sugar substitute or artificial sweetener in place of sugar. One recipe calls for plain fat-free yogurt, fat-free cream cheese, a sugar substitute and one package of sugar-free, fat-free, cheesecake-flavored instant pudding mix.
No-bake cheesecake recipes like this one use Cool Whip Free, reduced-fat cream cheese, sugar and a little bit of lemon juice to keep the calories under control. You can choose to spoon the smooth mixture into a reduced-fat graham crack crust, or serve it as a mousse.
If plain cheesecake won't cut it or you want to get creative, add your favorite berries. Drizzle the cake with sugar-free caramel or chocolate sauce.
Low-carb, sugar-free cheesecake
There is also cheesecake for people who are more concerned with watching their carbohydrate or sugar intake.
Alan Rosen, owner of Junior's restaurant in Brooklyn, N.Y., says the restaurant created the recipe for the sugar-free, low-carb take on its famous cheesecake with the help of a nutritionist. The recipe calls for xylitol instead of sugar and was perfected through trial and error, says Rosen.
"It was created because there are millions of people who can't eat sugar," he says. "This cheesecake is diabetic friendly."
The cheesecake is certified by the Glycemic Research Institute as "low glycemic" and "diabetic-friendly."
One slice of plain low-carb, sugar-free cheesecake from Junior's, or 3.2 ounces, contains 288 calories, 20 grams of fat and 20 total carbohydrates.