How to make an epic bacon-wrapped grilled cheese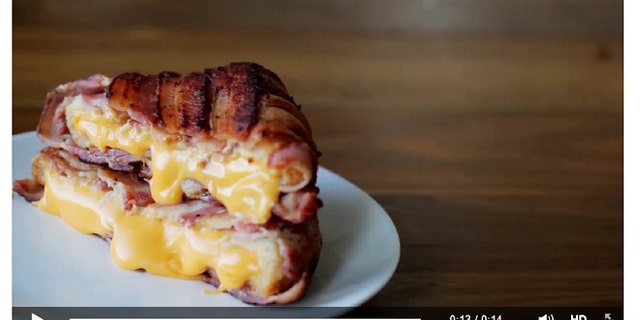 Bacon isn't going away anytime soon.
Restaurants are still serving it up in brand new ways and folks at home continue to blow our minds with epic creations.
The bacon-wrapped grilled cheese is just the latest effort by the folks over at Buzzfeed to satisfy a craving for salty, gooey goodness -- and it's just as insane as it sounds. With over 40 million views, the video is a certified viral hit, so don't be surprised if your local grocer is out of bacon.
Start by putting any cheese of your choice between two slices of bread. Then wrap up your ungrilled grilled cheese in a blanket of meat. Sear on both sides and within minutes, you've got one seriously cheesy package.
If you like crispy bacon you may want to try baking it after frying—but it's the most mouthwatering of those most-decadent-grilled-cheese sandwiches we've seen since the eye-popping $200 sandwich from Serendipity 3 in NYC.
(function(d, s, id) { var js, fjs = d.getElementsByTagName(s)[0]; if (d.getElementById(id)) return; js = d.createElement(s); js.id = id; js.src = "//connect.facebook.net/en_US/sdk.js#xfbml=1&version=v2.3"; fjs.parentNode.insertBefore(js, fjs);}(document, 'script', 'facebook-jssdk'));