Tapas – the combination of small hot and cold plates that add up to a meal – are becoming a restaurant staple in the U.S. But in Spain, where they originated, they have a culture as rich as the country's signature garlic and spicy tomato sauces.
The word "tapas" derives from the Spanish verb tapar, which means to cover or to top, and there are several theories about how the dishes evolved. Among them are:
--Bars used to cover drinks with small plates of meat or bread to protect them from fruit flies.
--Bars provided food to help absorb the alcohol in an effort to stem unruly behavior.
--Bar patrons, who typically were standing, used their drinks as a convenient place to rest their food.
But no matter the origin, if you've had tapas in the U.S., you're probably eating them wrong.
In Spain, there are no tapas restaurants. You find tapas only in bars. And there's almost no bad time to eat them, whether it's late at night and you're bar-hopping with friends or it's noon and you're biding your time before the main meal later in the day.
And they always come with a drink.
There's probably no better place to sample them than the bustling city of Madrid, so I signed up on a recent visit not just for one, but two tapas tours: Devour Madrid's Nighttime Tapas, Taverns, and History Tour, and the company's morning Huertas Neighborhood Food and Market Tour.
One thing I learned was: When picking a good tapas bar, the dirtier, the better.
"Most people would consider the dirty floor of a restaurant a bad thing, but not in Spain," says Lauren Aloise, co-founder of Devour Madrid. "A floor filled with crumpled-up napkins, shrimp shells and olive pits is a good thing in Spain. Stories say that 100 years ago, some not-so-honest restaurants would steal the trash from other bars' floors to make it look like they were popular."
Over the course of two days, I sampled a breakfast staple, handmade porras (a long fried doughnut, like a churro) with thick hot chocolate for dipping. I ate Iberian ham, from pigs that feast on wild acorns before they're slaughtered. I feasted on anchovies, sardines, octopus, shrimp and toasted bread with fresh tomato and extra virgin olive oil. It all went down nicely with vermouth on tap.
With so many tapas bars in Madrid, it's easy to get overwhelmed. But once you've picked one, you should push your way through the crowd to get to its beating heart – the bar.
"It's where the action is," says James Blick, Devour Madrid's other co-founder. "Don't order a million plates at once. Order bit by bit. There's no rush when you're out for tapas."
Next time you're in Madrid, head for these top tapas places. Just remember to pace yourself.
1. Bodegas Ricla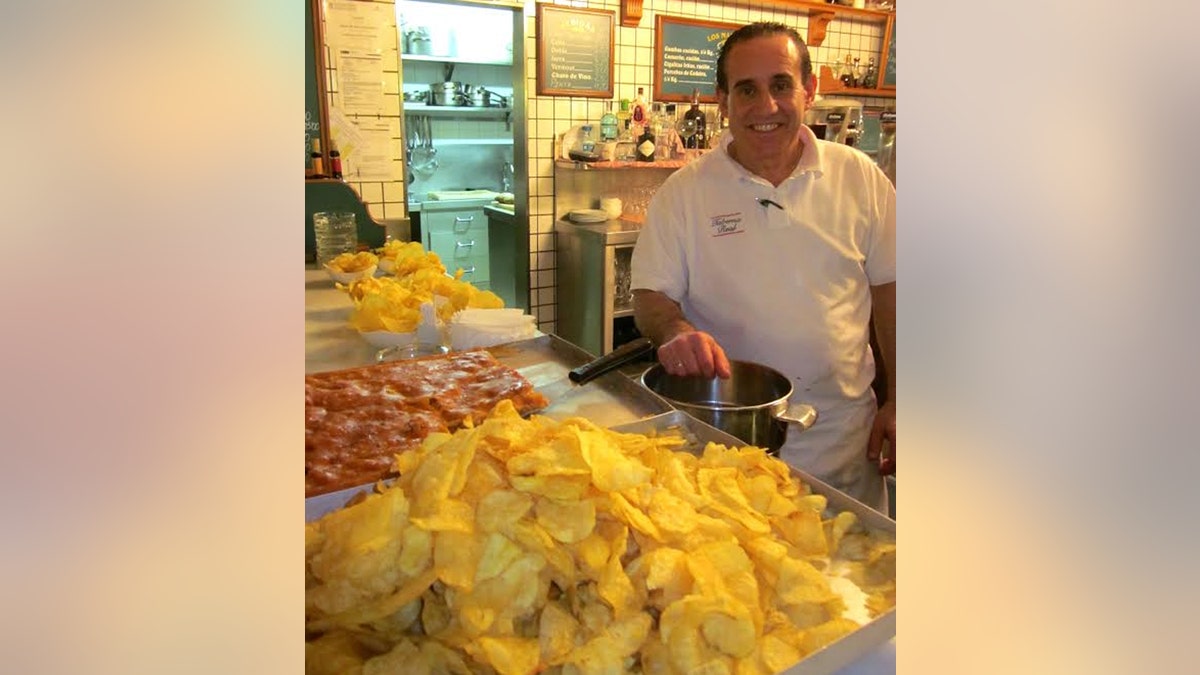 Calle de los Cuchilleros 6 Madrid
This bar opened in 1867 as a bodega – a wine shop that sold wine not by the bottle, but from the barrel, filling customers' personal containers. While there, patrons might grab a snack of boquerones en vinagre (anchovies marinated in vinegar) or some cheese. The same family has been running the business for 30 years. The mother, Ana, is the cook – she does much of her preparation in the kitchen of her apartment upstairs – and her sons, Emilio and José Antonio, run the bar. They still specialize in wines (though they no longer sell from the barrel), and the food is still very simple, because the bar doesn't have a full kitchen. The menu consists of Madrid's most famous boquerones en vinagre, cheeses, salt-cod and one or two hot dishes.
2. Casa Toni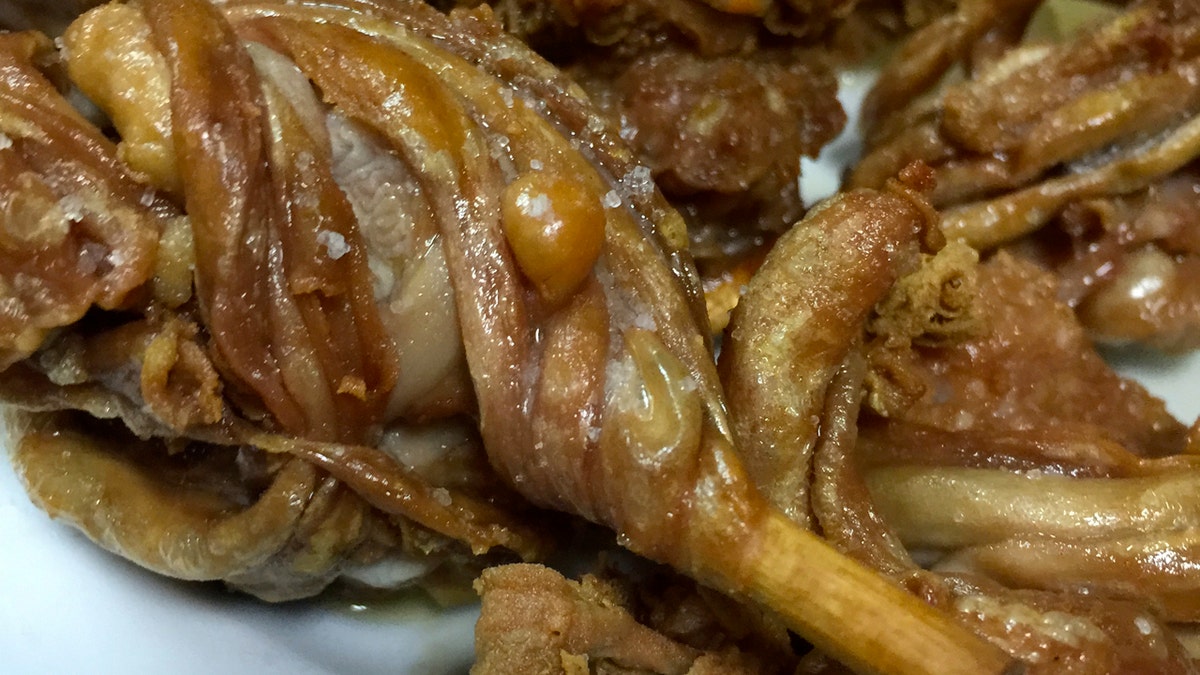 Calle de la Cruz 14, 28012
If you're an adventurous type, Casa Toni serves tapas made from organs and cuts of meats that aren't popular in the U.S. In addition to some staples like mini green peppers and eggplant, you'll find grilled kidneys, fried glands and braided lamb intestines. And there's plenty of wine and sangria to wash it all down!
3. La Casa del Abuelo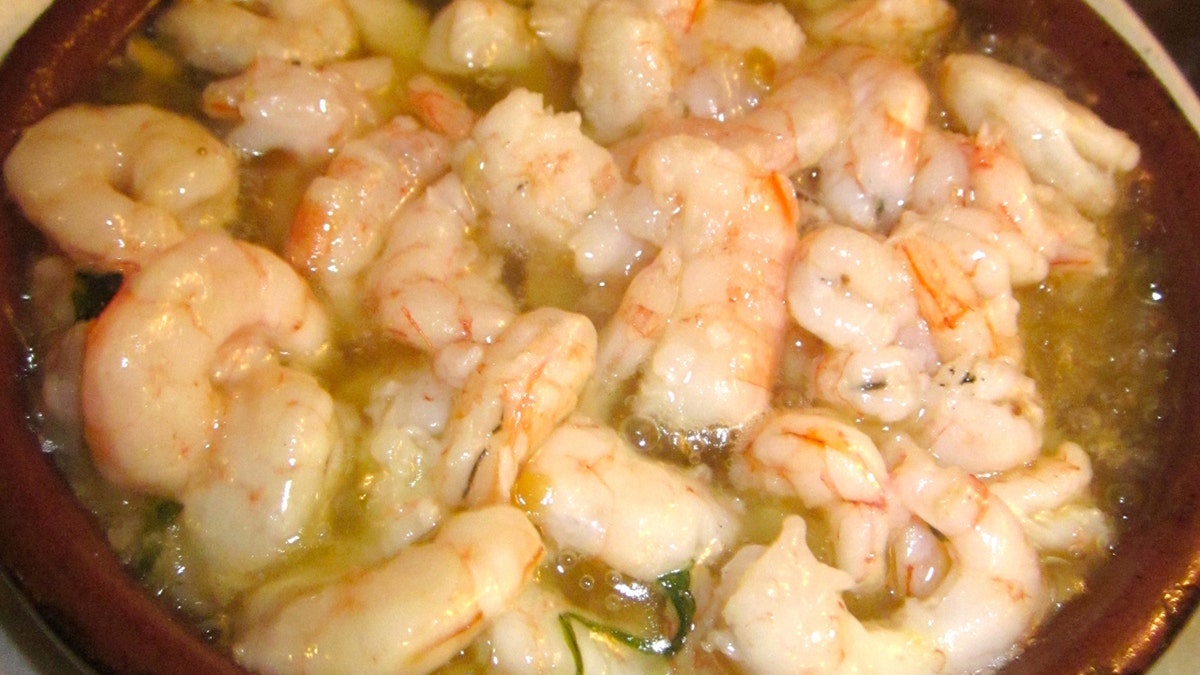 Calle de la Victoria, 12 and Calle de Toledo, 11
The Waldberger-Ruiz family has been running this bar for four generations – since 1906, when it was known for its bocadillos (sandwiches). A shortage of bread after the 1936-1939 Spanish Civil War made it impossible for La Casa del Abuelo to continue selling sandwiches, so the current owners' grandfather went to the market and bought shrimp, which was cheap, to grill. Today it's the most famous place in Madrid (and perhaps Spain) for gambas (shrimp) on the grill, as well as gambas al ajillo – fried garlic and chili shrimp.
4. Mercado de San Miguel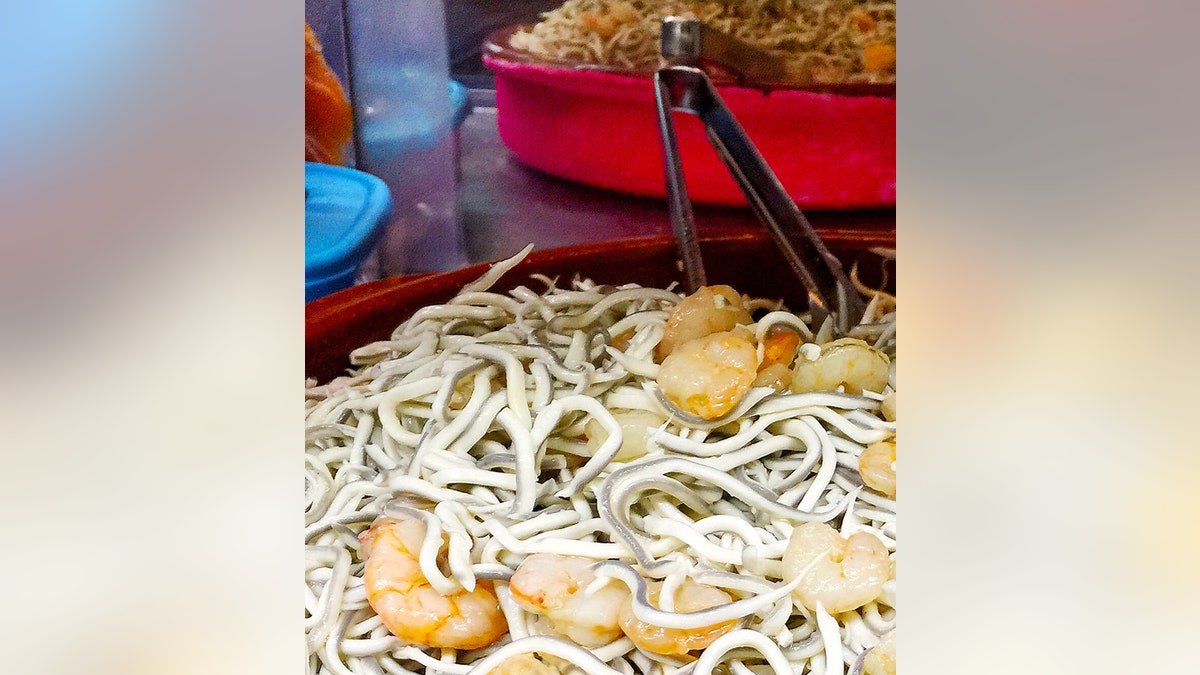 Plaza de San Miguel, s/n, 28005
This is a great spot to sample a variety of unique and traditional tapas made from a variety of fresh and seasonal food for all palates. Elver – a fish noodle served plain, with shrimp, or in a sandwich with smoked salmon – is a must-try. Centrally located in the Plaza de San Miguel and the last remaining iron market hall in Madrid, it's a fun spot to spend an hour or two.
5. Mercado de Antón Martín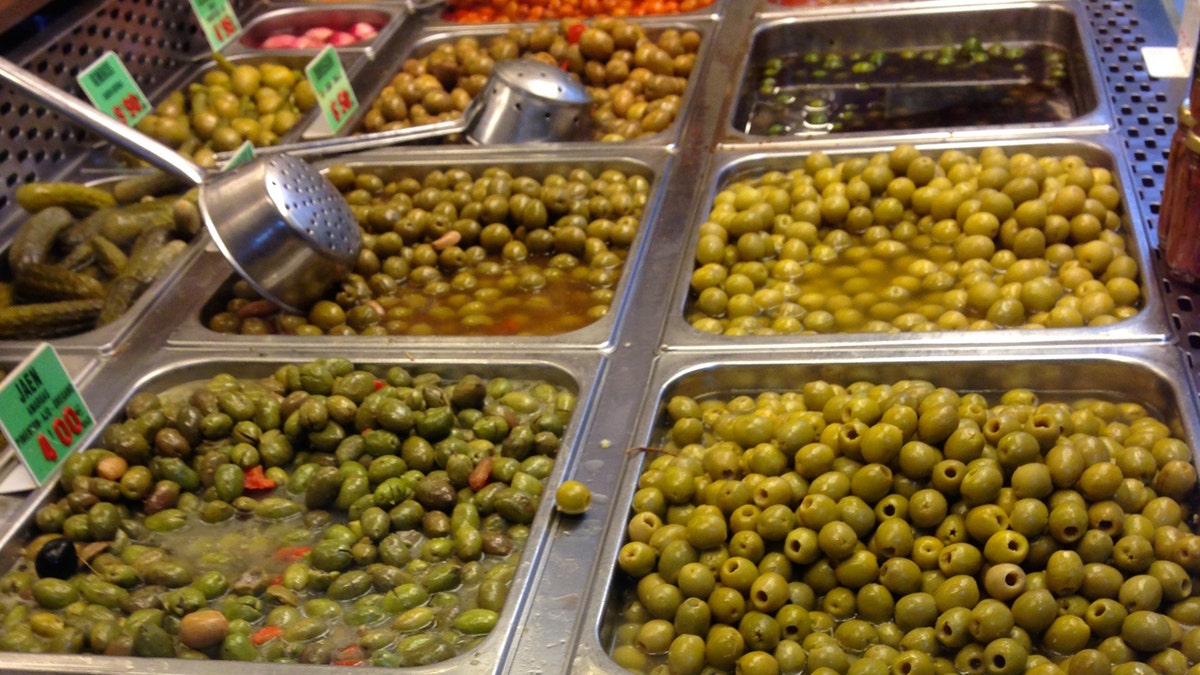 Calle de Santa Isabel, 5, 28012
Less bar and more market, this two-level emporium is stocked with organic food stalls, wine bars and Iberian ham and cheese shops. There is an area dedicated to cooking demonstrations and small art exhibits, and there's a shop that sells only craft beers. The market reflects an indie vibe, a reflection of its neighborhood, the Barrio de Lavapies, which borders Madrid's immigrant barrio and has a distinctly bohemian personality.
6. Mesón del Champiñón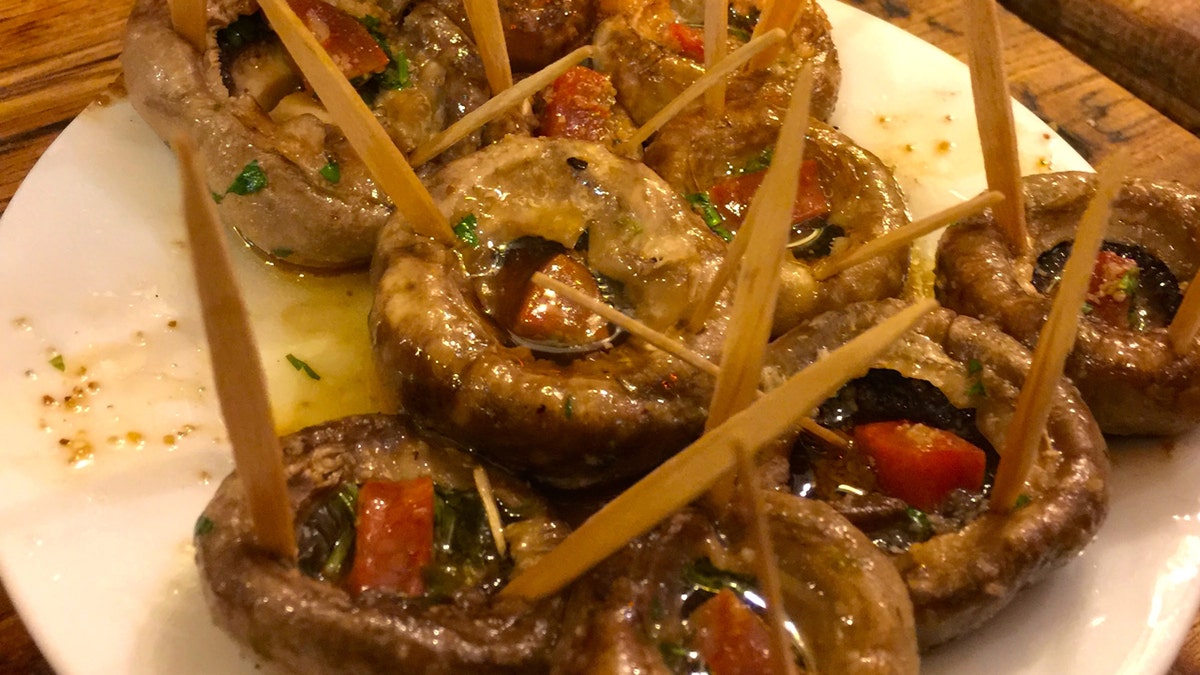 C/ Cava de San Miguel, 17, 2800
The brightly painted murals and a lively piano player create a fun atmosphere here. And in addition to regular tapas, the menu features their famous mushrooms filled with olive oil, garlic, parsley and chorizo. They're simply addictive.