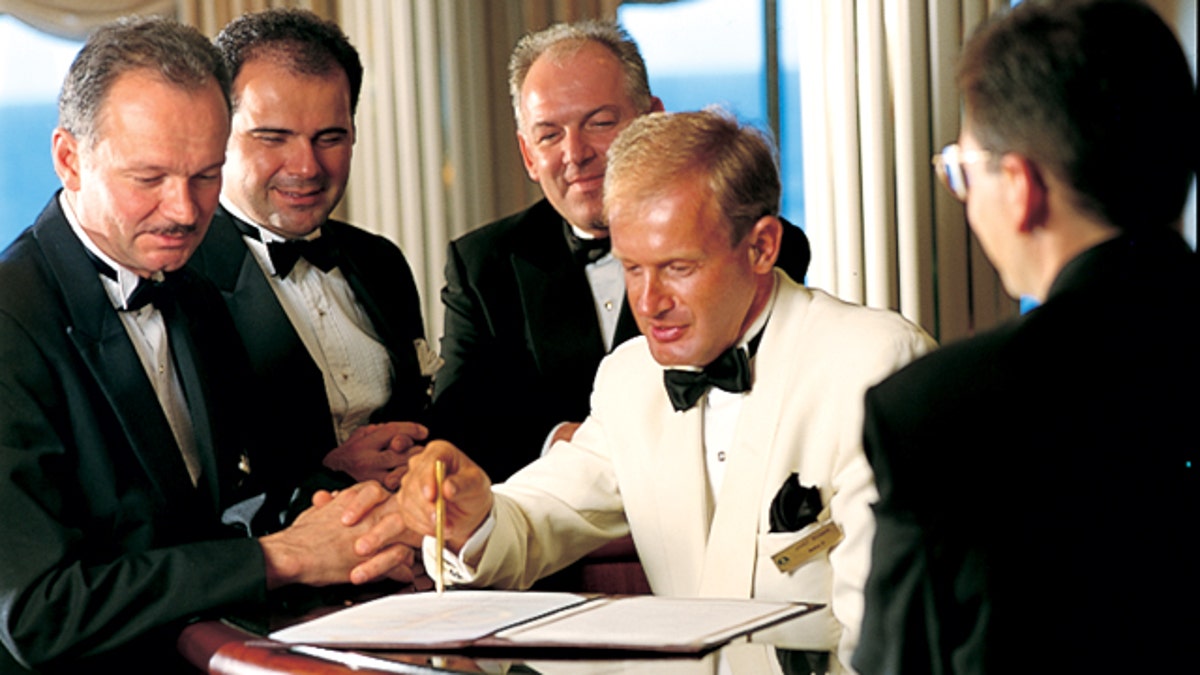 The line is out the door and you said you didn't need a reservation. But now you're there, she's cold and you don't see the guy you thought you knew would be working the door.
We've all been there. Thankfully, an executive chef on Quora revealed the most effective strategies for bribing the maitre d', the most common pitfalls guys make and how to get around them.
Cheers to a successful date night.
If you must (and you should know that such acts, successful or not, make it up the chain all the way to me), be discreet, don't be cheap, and have something the maitre d' wants other than money. My maitre d's job depends on making me happy by making customers happy. If that means I lose a six-top because he seated a bribed two-top, those $100 you just slipped him might, all things considered, might be his last income at the place. So you have to make it worth his, and his friends' while to take that risk.
More from AskMen.com
Things that Could Blow It If you are the one table that did not call ahead and the line in front of you is people waiting for their reserved tables; you're wearing jeans and a T-shirt and it looks like that bill is the last one you can afford; he's already let another bribe in; the guy waiting in line leaves a frequent large tip; I am watching him because he has a habit of upsetting other diners and costing me money by letting bribes skip in; it's a Saturday dinner rush
Then you might be out of luck. Sometimes you aren't, sometimes you are. Sometimes he'll turn around, look at you and proclaim, loudly, for everyone to hear, that he is not for sale. Sometimes he'll say "I see what I can do," pocket your money, and put you at the bottom of the list.
The Rules You can up your chances by observing a few general rules. As I said, everyone will know you are the person who bribed the maitre d'. We see things. All it takes is one busser seeing you come in ahead of a waiting reservation. We talk. A lot.
Make It Count So you first need to make it really worth his while. Don't even try less than $50 in a medium-high class place. Better is 40% of the expected bill for bills over $200, 50% below that. If you really want in it should be worth that much to you. Again, you might be out-bribed by someone else and there are no returns on bribe money. Make it count.
Since he knows everyone else will know, he'll have to ascertain everyone else is happy. That means you should look like you can afford the expensive wine, will order four courses, will tip well, and will make the kitchen happy by not acting like an entitled a**hole just because you slipped your way in. If we all are happy we won't give him grief for his actions. If someone isn't... he'll suffer. Since you can't bribe high enough to offset that suffering, you have to make sure he knows you won't cause it.
Be Nice Be nice. Not the fake nice, we know that one. We are the masters of fake nice. Every maitre d' or server is fake nice for a living. We're better at it than you will ever be, we can make you walk home thinking you were that close to taking the waitress home with you while she made barfing motions behind your back all night. We're that good. You're not. So be nice. Real, genuine, nice. If your maitre d' likes you he might go to bat for you.
Don't Show Off Don't swagger in and think money will open all doors for you. Even within the 99% we're the bottom 5. We make slightly above minimum wage, half of us live on food stamps, aid programs, and are working three jobs. Flashing your coin will activate the maitre d's business instinct, not his respect. If you bribe, bribe in a way he knows you're doing it for the table -- not to show off how much better (and richer) you are than him. He most likely couldn't afford the appetizer in the place you're about to enter.
All that above considered, just offer the money. If you get in you get in. If not, well... you'll have to wait like everyone else.