How golf legend Arnold Palmer created one of the world's greatest drinks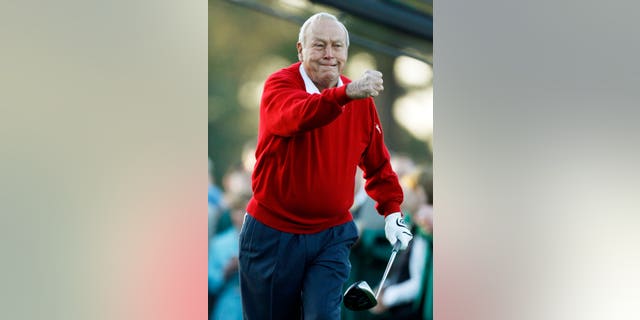 NEWYou can now listen to Fox News articles!
Raise a glass to celebrate the life of golf's "King" — and make it an Arnold Palmer.
"I imagine that Arnold Palmer walks into a restaurant and they ask him what he's drinking, and he says, 'What the hell do you think I'm drinking,'" comedian Will Arnett once cracked.
Some sports greats have a trophy named in their honor. Others, a spiffy stadium or a playing surface.
Palmer, who died Sunday at 87, had a much more refreshing choice, a mixture of lemonade and iced tea that was named for him.
He created a stir on the course and with his drink that made him as much a cultural icon as much as his Grand Slam victories.
Around the world, all you had to do was say his name and you could get the perfect mix of iced tea and lemonade.
Palmer loved iced tea and suggested to his wife, Winnie, one day that she make a big pitcher of the drink. For fun, he suggested a dose of lemonade to mix things up. He drank it for lunch and loved it so much that the concoction would become a part of his daily routine.
"I thought, boy, this is great babe," he said in an ESPN documentary . "I'm going to take it when I play golf. I'm going to take a thermos of iced tea and lemonade."
The secret to a perfect Arnold Palmer, go heavy on the iced tea with just a splash of lemonade.
Palmer said he was overheard ordering the drink in a restaurant and a nearby patron said she wanted an Arnold Palmer.
Legend has it, the name stuck and — even if he didn't invented the drink, he sure did popularize the beverage. The perfection was in its simplicity, ideal for a summer day, the end of a round of golf or lunch with the kids.
Palmer would stick his name and likeness on a mass produced Arnold Palmer drink distributed by Arizona Beverage Company.
He poked fun at the drink in pop culture and appeared in an ESPN SportsCenter commercial where he stood in line and poured himself iced tea from one dispenser and lemonade from another to mix the drink.
Palmer's drink was parodied down to his last day. "The Simpsons" poked fun in Sunday's episode by having Homer Simpson plot with one of his friends to fill water guns with iced tea and lemonade so he could "Arnold Palmer Lenny when he walks in!"
"Arnold Palmer Lenny. You're going to Arnold Palmer Lenny," Marge Simpson said.
"Arnold Palmer was a golfer and he made up this drink where it's not a full glass of lemonade or a full glass of iced tea," Homer explained.
Yes, even a dolt like Homer Simpson could make the drink.
And the rest of us could enjoy one.