Houston Astros player hands $1,200 to workers at fast-food drive-through windows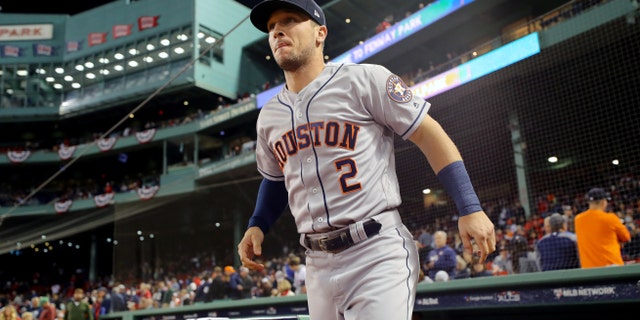 Forget Santa — Alex Bregman of the Houston Astros spreads Christmas cheer like it's his job.
On Christmas Eve, the professional MLB player shared a YouTube video of he and his buddies handing out hundred-dollar bills to fast-food drive-through workers in the Houston area.
SPITTY SANDWICHES AND 'ARM TEA': THE GROSSEST FAST-FOOD MOMENTS OF 2018
Warning: Videos contains strong language.
"Breg and the boys are on the move. We will be driving around Houston, leaving a little tip for some drive-thru workers," he teased at the top of the video. "Stay tuned."
The video starts with Bregman and his friend ordering water at Jack in the Box, only to soon surprise the employee at the window with a crisp C-note.
Another employee at a separate restaurant beams from ear to ear when presented with the cash, questioning whether it's "fake."
"It ain't fake!" Bregman's friend yells from the passenger seat.
CLICK HERE TO GET THE FOX NEWS APP
Bregman's most generous tip comes near the end of the video while ordering at a KFC. After asking how many workers were in the restaurant at the time, Bregman handed the drive-thru worker $700 in hundred-dollar bills — one for each employee on-duty.
The manager later counted up his staff to make sure, only to find there were actually eight workers in the store. Bregman then handed over another hundred.
"You're lying!" one of the stunned workers exclaims upon seeing the money. "I'm gonna cry!"
In total, Bregman alleges he gave away $1,200 to "give back to the community of Houston," according to his YouTube video, which has since been viewed nearly 33,000 times since being shared on Dec. 24.
Bregman also demonstrated his generous tipping habits in a YouTube video he uploaded in November, during which he gave a Houston waitress $500 after learning her car had been broken into that morning.
"We thought this would be a good idea to come help a waitress who's struggling right now. I think it's a good deed and I think when you're an athlete or someone who has the platform that we have, it's important to give back and really use that platform in the right way," he said in the video.
FAST FOOD WORKERS REVEAL CUSTOMERS' MOST ANNOYING HABITS
Fox News' Michelle Gant contributed to this article.