Homeless man applying for McDonald's job lands position with cop's help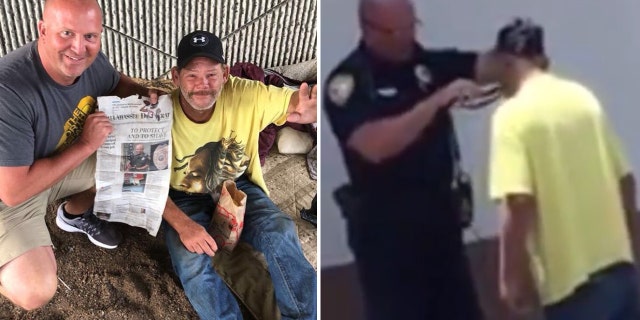 A homeless man in Florida who was trying to get a job has been hired by McDonald's thanks to the help of a local police officer.
Officer Carlson of the Tallahassee Police Department went viral earlier this week after he was spotted outside a gas station helping Phil shave.
After asking the officer for assistance because he was having trouble with the razor, Phil mentioned he had the opportunity to get a job at McDonald's if he showed up the next day with a clean shave.
5 GLAMPING DESTINATIONS IN THE US FOR THOSE WHO WANT TO ENJOY NATURE IN COMPLETE COMFORT
Officer Carlson realized Phil was struggling to do so without a mirror, so he took the razor and started doing it for him.
"He seemed excited about [the job]…if he's wanting to help himself, I need to help him out the best I can," Officer Carlson said in a video posted to the police department's Facebook page.
After showing up for his interview Monday, Phil was told the job would be his as long as he could complete the ID process, TODAY reports.
Raphael Vasquez, who owns and operates the fast food chain where Phil applied, told TODAY that he did "everything great," but everyone who becomes and employee must provide some form of government identification and a social security card, neither of which Phil had.
On Tuesday night, Officer Carlson was heading to dinner with his family when they spotted Phil. He picked up a few McDonald's cheeseburgers to take to him and give him some good news: Senator Marco Rubio had heard Phil's story and contacted Officer Carlson offering to help out, according to an update posted on the police department's Facebook page.
By Friday afternoon, Phil and Officer Carlson had visited the Florida Department of Highway Safety and Motor Vehicles where Phil had been able to get a Florida ID card, qualifying him to work at McDonald's doing janitorial work with "room for growth," Vasquez told TODAY.
FOLLOW US ON FACEBOOK FOR MORE FOX LIFESTYLE NEWS
"If somebody else sees this when they can help somebody out, hopefully they'll think of this," Officer Carlson said about the experience.