Hilarious video of little kid trying to lift watermelon at store goes viral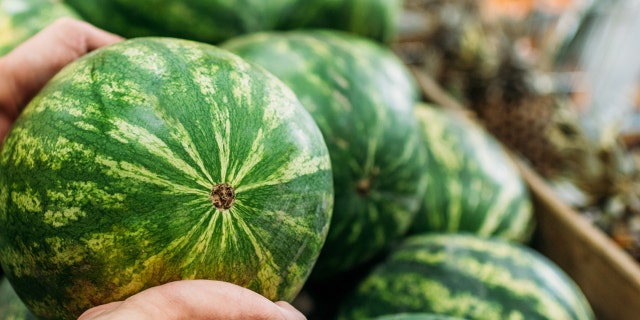 A boy out shopping at the market with his family accidentally dropped a watermelon on the ground and his reaction has gone viral.
In the hilarious three-second clip shared on Twitter, young Noah is seen trying to lift the large fruit from the cardboard bin. But before he's able to get it to the cart, the heavy melon slips from his arms and splats on the floor, breaking open.
FOURTH OF JULY SALES OF SUNSCREEN, INSECT REPELLENT EXPECTED TO INCREASE OVER 200 PERCENT
Noah bends down to pick it back up, but when he realizes the watermelon is busted into pieces, he bolts.
"Oh my gosh," he gasps as he runs away.
A photo posted after the video shows Noah sitting in the shopping cart with a frown on his face. In the background, a caution sign has been set up next to the melon bin at the scene of the crime.
MiaPulido04, who posted the video, jokingly captioned it, "Me running away from all my problems."
Hundreds of people commented on the relatable incident, sharing similar instances that've happened to them. Others couldn't help but note the seemingly high price tag of the melon, selling for $5.99.
FOLLOW US ON FACEBOOK FOR MORE FOX LIFESTYLE NEWS
As of Tuesday afternoon, the video had been viewed 7.4 million times and liked by over 370,000 people.