Hershey's unveils a chocolate spread to rival Nutella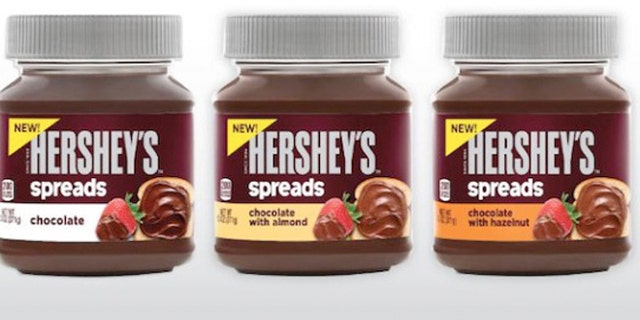 Watch out Nutella.
Hershey's just announced it is launching a new line of chocolate spreads.
Called Hershey's Spreads, they'll soon be available in three varieties: Chocolate, Chocolate with Almond and Chocolate with Hazelnut.
Did you catch that? Chocolate with Hazelnut. That's essentially Nutella. Will Hershey's knock America's favorite chocolate spread off its throne?
Over the past five years, sales of Nutella in the U.S. have more than tripled to $240.4 million, according to market researcher Euromonitor International.
Hershey's is trying to take a bite out of that through America's love of snacks.
"The average American snacks more than two times a day and what better way to transform everyday snacks into delicious treats, than with the genuine chocolate flavor that only Hershey can deliver," said a spokeswoman for Hershey's in a press release.
A Hershey statement also suggested pairings with pineapples and pickles.
This isn't the first product to hit store shelves to compete against Nutella. In 2012, J.M. Smucker Co. also got into the game with its Jif hazelnut spreads.
But you still only see Nutella on the breakfast buffet bar alongside dry cereal, coffee, and jams.