Helping Vets: Good Snacks for a Good Cause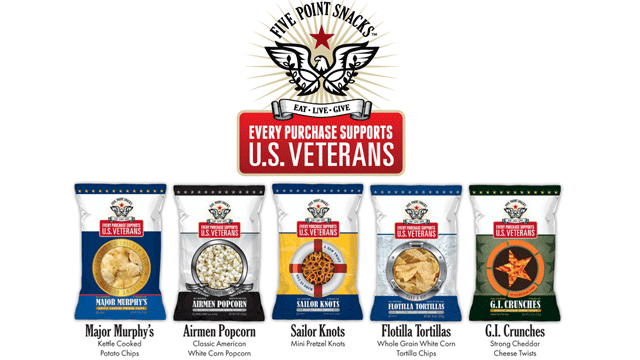 "Courage is almost a contradiction in terms," wrote English author G.K. Chesterton. "It means a strong desire to live taking the form of readiness to die."
Supporting, thanking and honoring those whose bravery takes the form of a readiness to die is why many of us will flock to local Veterans Day parades on Friday. And while we're there we can further support our veterans by enjoying a bag of chips from fledgling Five Point Snacks.
Cause-based commerce or capitalism with a cause--whatever you call it --it has been around for a while.
Newman's Own showed that Americans could be motivated (to the tune of $300 million since 1982) to buy products with a charitable connection. Ben and Jerry's sales fund a variety of social and environmental causes and Starbuck's Ethos Water supports clean-water initiatives in developing countries.
Five Points targets a new audience: Americans whose passion is patriotism. Proceeds from every purchase of Major Murphy's potato chips, Airmen Popcorn, Sailor Knots pretzels, Flotilla Tortilla chips and G.I. Crunches cheese twists goes to veterans.
"Charlie's father served in the South Pacific in WWII," says New York-based adman Alan Blum of his business partner, Charles Herbstreith. "My dad was in the reserves between Korea and Vietnam." Those connections and the events of 9/11 were Blum and Herbstreith's catalysts for building a veteran-based brand.
"There's not much advocacy out there for veterans," says Blum, many of whom serve multiple tours and can't find jobs when they come home. "Employers don't hire them because while they're serving, their counterparts back home are doing the kind of entry-level work that needs to be done in order to climb the ladder," he says.
Five Points teamed up with the VeteransAid Foundation, a kind of United Way for veteran groups. They're a non-profit set up to collect and distribute funds to the country's more than 60,000 small, local and universally under-funded veteran groups. (Texting "vets" to 80888 contributes $10.)
"Veterans need everything from service dogs, to ramps to modify homes, to PTSD treatment (post-traumatic stress-disorder), to support systems for their families," says VeteransAid's Adrienne Gugliomo. The people working at these small not-for-profits don't have the time raise the money for the issues they're working on, she explains. "On any given night," she adds, "more than 100,000 veterans are homeless."
Five Points approached VeteransAid and offered a piece of their sales. Their whole product is about patriotism, she says. "They do it with dignity and they do it with passion."
New York-based Duane Reade drugstore chain was Five Points' first retailer, launching the snacks just before the 10th anniversary of 9/11. (They're now in BJ's, too). "The idea really appealed to us but it had to meet our taste standards, no matter how great the cause," says Jackie Burrell, Duane Reade's director of merchandising operations. It exceeded them.
"With everything that's happening in our world, supporting the military, active and inactive, is always a good cause," says Burrell. "Especially in New York City. Especially because of 9/11." Burrell has walked the walk. She served as a paratrooper with the 101st Airborne.
The cause is good, the cause is just, but taste counts and Americans know from salty snacks. Here's how Five Points stacks up:
Airmen Popcorn is basic, salted and unflavored. It's non-greasy and has a brief fresh-popped whiff when first opened. Restaurant-style Flotilla Tortilla chips are a tasty, largely non-breaking delivery system for salsa and guacamole. Sailor Knot pretzels are perfectly fine. Major Murphy's potato chips lack the brittle, oiliness of regular kettle-cooked chips, the kind that splinter into what feel like plastic shards when you bite them. They have that kettle crunch, they're just smaller and lighter. G.I. Crunches are like Cheetos on steroids. They're bigger, crunchier, with a rich, dense flavor.
Five Points plans to donate 11 percent of profits but don't project profits for three years. Until then, they're making a pre-profit donation of a few cents per package sold. "We didn't want someone buying a bag thinking it's doing good when it isn't," explains Blum.
When asked if it all sounds too good to be true, says Blum: "It's fair in today's environment that people would be suspicious of good these days, and rightly so. We welcome scrutiny. Bring it on."
"They stood up for us. Now stand up for them," is VeteransAid's motto. "Eat. Live. Give," is Five Point's. One of the easiest ways to do both is to buy a bag of chips.