Healthy soup recipes to kick start your diet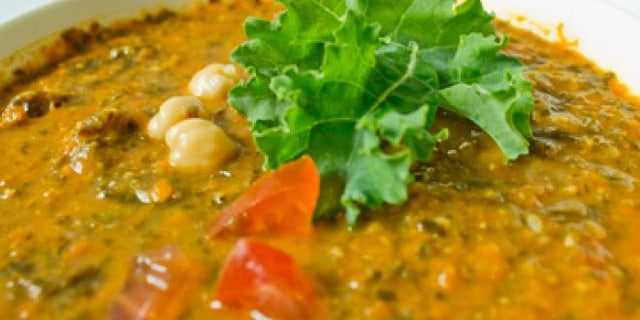 Soup is the ultimate comfort food, especially during the winter months. But it can also be great at helping jump start your post-holiday diet. January is National Soup Month so try some of these deliciously filing, yet healthy soups--and watch those extra pounds simply melt away.
Kale Tomato Soup with Chickpeas and Cumin
Kale was the hot new vegetable trend of 2012, and continues to remain on the top of many's shopping list due to its high nutritional value and surprising versatility. So it's no wonder this soup is top on our list. The extra protein from the chickpeas keeps you feeling full all day –hopefully enough to keep you away from the sweets.
Recipe: Kale Tomato Soup with Chickpeas and Cumin
Cabbage Soup
You don't have to be on the "cabbage soup diet" to make some cabbage soup. This recipe has been around since the 1950's as a favorite slimming soup, and been used by celebs like Dolly Pat. Eaten over 7-days, this low-calorie soup can help shed the pounds -even if it's only for the short term.
Recipe: The Original "Cabbage Soup Diet"
Butternut Squash Soup
This soup recipe is perfect for a post-holiday diet plan. The butternut squash --which is still plentiful at supermarkets-- makes for a substantial meal, yet is low fat enough for anyone who's slimming down.
Magical Leek Soup
Mireille Guiliano, author of "French Women Don't Get Fat" believes you can reduce the size of your stomach by eating this simple soup over a weekend. After a few days of eating this, Guiliano says you can go back to eating bread with butter, but in moderation.
Castilian Garlic Soup
Discover what the Spanish have known for years: That this simple, yet flavorful soup not only keeps the flu away, but can help reboot your system. We've skipped the traditional sourdough bread,which helps thicken the soup, but kept the poached eggs on top.