'Handmaid's Tale' wine canceled following social media backlash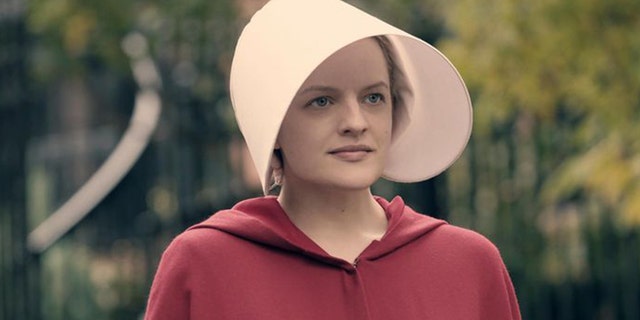 Wine inspired by the characters on the hit Hulu series "The Handmaid's Tale" was canceled from its launch on Tuesday following backlash from social media users.
Lot18, a wine curator, announced the wines were inspired by the female characters on the show that included Offred, portrayed by Elisabeth Moss; Ofglen, played by Alexis Bledel and Serena Joy, played by Yvonne Strahovski.
Offred's Pinot Noir was described as "a rich and complex wine that will stay with you long after you've finished your glass and a powerful experience you will never forget," the website stated. Ofglen's Cabernet Sauvignon was defined as "a daring testament to the heights that Oregon Cabs can reach, featuring concentrated flavors of cherry, plum and coffee bean that give way to a warm, spicy finish." Meanwhile, Serena Joy's Bordeaux Blanc was described as "sophisticated, traditional and austere" with hints of white grapefruit and lemongrass.
SUBWAY WORKER 'SHATTERED' VEGAN CUSTOMER'S 'WORLD' BY EXPLAINING MAYONNAISE HAS EGGS IN IT
The wine's marketing copy stated, "Offred must rely on the one weapon she has left to stay in control – her feminine wiles. This French Pinot Noir is similarly seductive, its dark berry fruit and cassis aromatics so beguiling it seems almost forbidden to taste."
However, Lot18 and MGM, which produces the series, canceled the line of wines and took down a page on its website describing the television-inspired booze. MGM and Lot18 did not release a statement regarding the cancellation.
The line of wines was met with backlash on social media with some accusing the marketing of the wine as being tone deaf due to the show's content. The show follows Offred, a handmaid, living in Gilead, a totalitarian society. Offred and other fertile handmaids are forced to have babies in an effort to help repopulate the world.
"Can you turn rape into marketing copy? 'Sure, you bet.' Great, it's for 'Handmaid's Tale' wine.' 'Haha, love it,'" one social media user wrote.
"Finally a product that combines everything I hate: wine, marketing, unbridled capitalism and authoritarian patriarchal dystopias where women are chattel!" another person tweeted.
FOLLOW US ON FACEBOOK FOR MORE FOX LIFESTYLE NEWS
"The secret ingredient is roofies," a social media user tweeted.
"I'm starting to think that aliens have released a chemical into our water supply that is slowly making the entire world stupid," another person tweeted.