Grilled Chicken Tacos with Avocado Goat Cheese Sauce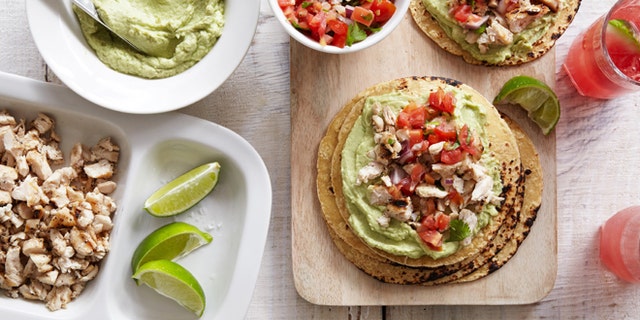 NEWYou can now listen to Fox News articles!
These chicken tacos by Terra's Kitchen use tender grilled chicken, tangy smooth avocado goat cheese sauce and house made pico de gallo.
Terra's Kitchen is a fresh ingredient meal delivery service where all of the ingredients come chopped and in a cooler "vessel" in order to prepare 15-30 minute meals, prepped snacks, smoothies, salads, sides and a la carte proteins. Their menu of 50+ recipes based on the principles of the Mediterranean lifestyle includes Paleo, low-calorie, gluten-free, vegetarian, and vegan options. Their clean ingredients are plant-strong, heart-healthy, and a balance of essential nutrients. Meals are individually priced and shipping is always free with a $62.99 minimum order.
Cook Time:15 min
Prep Time:15 min
Total Time:30 min
Servings: 2
Ingredients:
12 ounces chicken tenders
1 avocado
3 ounces goat cheese
1 lime
6.5 ounces prepared pico de gallo
6 (5.5 inch) corn tortillas
Kosher salt
Freshly ground black pepper
1 teaspoon canola oil
Cumin (optional)
Preparation:
Cook the Chicken: Brush or rub a grill pan with the canola oil or spray with a non-stick cooking spray and place over high heat. Salt and pepper the chicken tenders and place on the hot grill. Cook until juices run clear, turning once (about 15 minutes). Remove to a plate and allow to rest for 5 minutes.
Make the Avocado Goat Cheese Sauce: Cut and pit the avocado and scoop the flesh into the bowl of a foodprocessor. Quarter the lime and squeeze half over the avocado. Add goat cheese and process until smooth (for a chunkier sauce, use a mixing bowl and fork). Season to taste with salt and pepper. Stir in a pinch of cumin from your home pantry if desired. Set aside.
Place the cooked chicken on a cutting board and roughly chop (¼ -½-inch pieces).
Heat tortillas by placing directly over a gas burner or under a broiler until lightly charred on both sides.
Spread each tortilla with a generous helping of the avocado goat cheese mixture. Top with chopped chicken, pico de gallo and a squeeze of the reserved lime.
Did you notice your avocado goat cheese spread stayed a beautiful green for a long time after you made it? The reason for the envious color hold is not just the squeeze of lime, it's also the enzymes in the goat cheese that help it from turning dark.