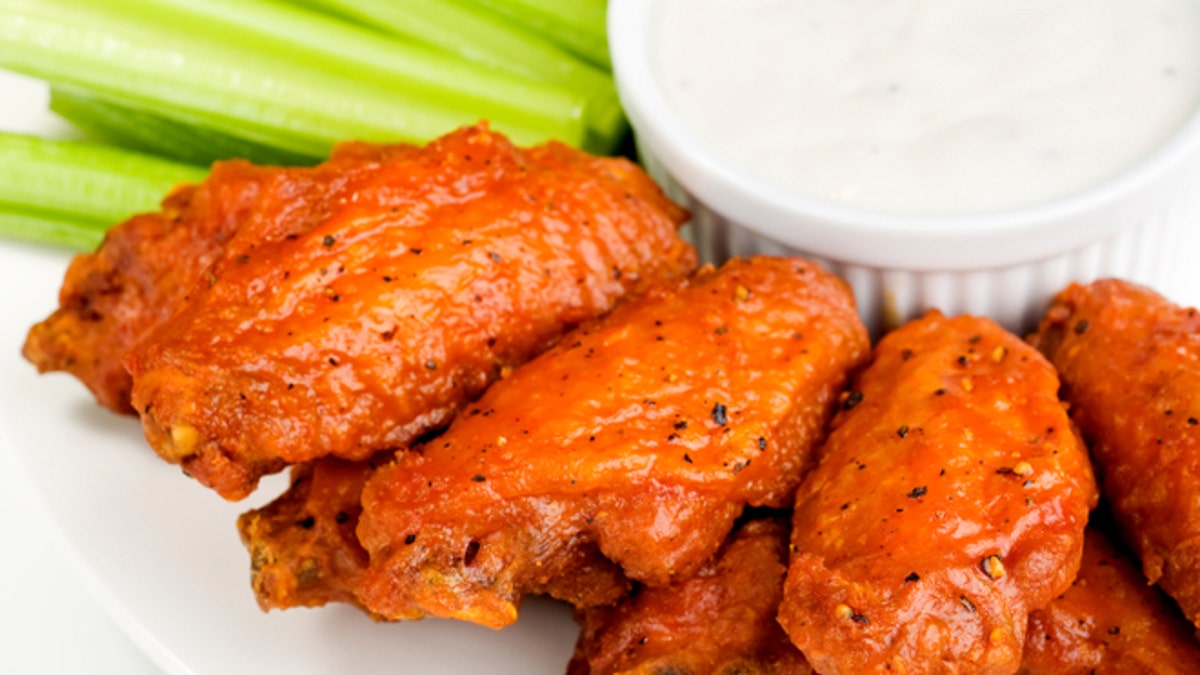 Beer? Check. Big comfy sofa? Check. Game in high-definition? Check. Wait, there's something missing though. Why, of course — wings! Watching a football game with a bunch of friends just wouldn't be the same without this iconic party food, and The Daily Meal has rounded up some of its best wing recipes to help get your party off the ground and keep it going strong.
Looking for a no-frills classic recipe? Be sure to check out this Traditional Buffalo Wings Recipe, which uses Frank's RedHot (a must) and a touch of butter and cider vinegar. Or, if you're looking for a sweet-hot twist, then don't miss out on these Honey-Sriracha Glazed Buffalo Wings from Randy Clemens, author of The Sriracha Cookbook (surprise, surprise). For a more Asian-inspired twist, try Namiko Chen's Garlic-Miso Chicken Wings which can't be beat for their umami flavor, and for the really adventurous, there are Cranberry Sweet Chili Wings with Creamy Feta Sauce.
Whatever wings you decide to make though, to ensure success at every step, be sure to read up on How to Make Perfect Hot Wings. Making hot wings isn't rocket science, but it definitely helps to have a few pointers. Then, get ready to sit back, relax, and enjoy the game!
Honey-Sriracha Glazed Buffalo Wings
Randy Clemens, author of The Sriracha Cookbook and creator of this addictive recipe, suggests serving "an aggressive, hoppy beer like an IPA" with these wings.
Creamy Buffalo Wings
Floyd Cardoz of Top Chef Masters fame broke away from tradition and created these wings using Tabasco hot sauce.
Garlic-Miso Chicken Wings
Namiko Chen, author of the blog Just One Cookbook, specializes in Japanese cuisine, and created these wings using a simple mixture of garlic, miso, soy sauce, and mirin.
Wildwood's Hot Wings
Big on flavor, the secret to these delicious hot wings is in the rub. Try them for yourself.
East Asian-Style Wings
Sweet and spicy, this Asian-inspired hot wing recipe would make a fantastic addition to any party snack spread.
Crunchy Honey-Soy Glazed Chicken Wings
Even though they're baked instead of fried, these wings get a nice crisp exterior thanks to the use of panko breadcrumbs, and coated with, a sweet, tangy, spicy glaze, we bet you can't eat just one.
Honey-Mustard Chicken Wings
Honey-mustard isn't just for salad dressing anymore. These are perfect for people who just don't do spicy but still want to join in on the party.
Spicy Chipotle-Honey Wings
Chipotles en adobo add a smoky, spicy flavor to the sauce for these wings, which also get a nice crispy exterior thanks to a quick trip to the broiler at the very end.
See all 15 great game day wing recipes here
More from The Daily Meal
Reinventing Campbell's Soups

The Daily Meal's Ultimate Guide to Cookies

How to Make McDonald's Egg McMuffin at Home