Ginger Molasses Sugar Cookies for a Communal Table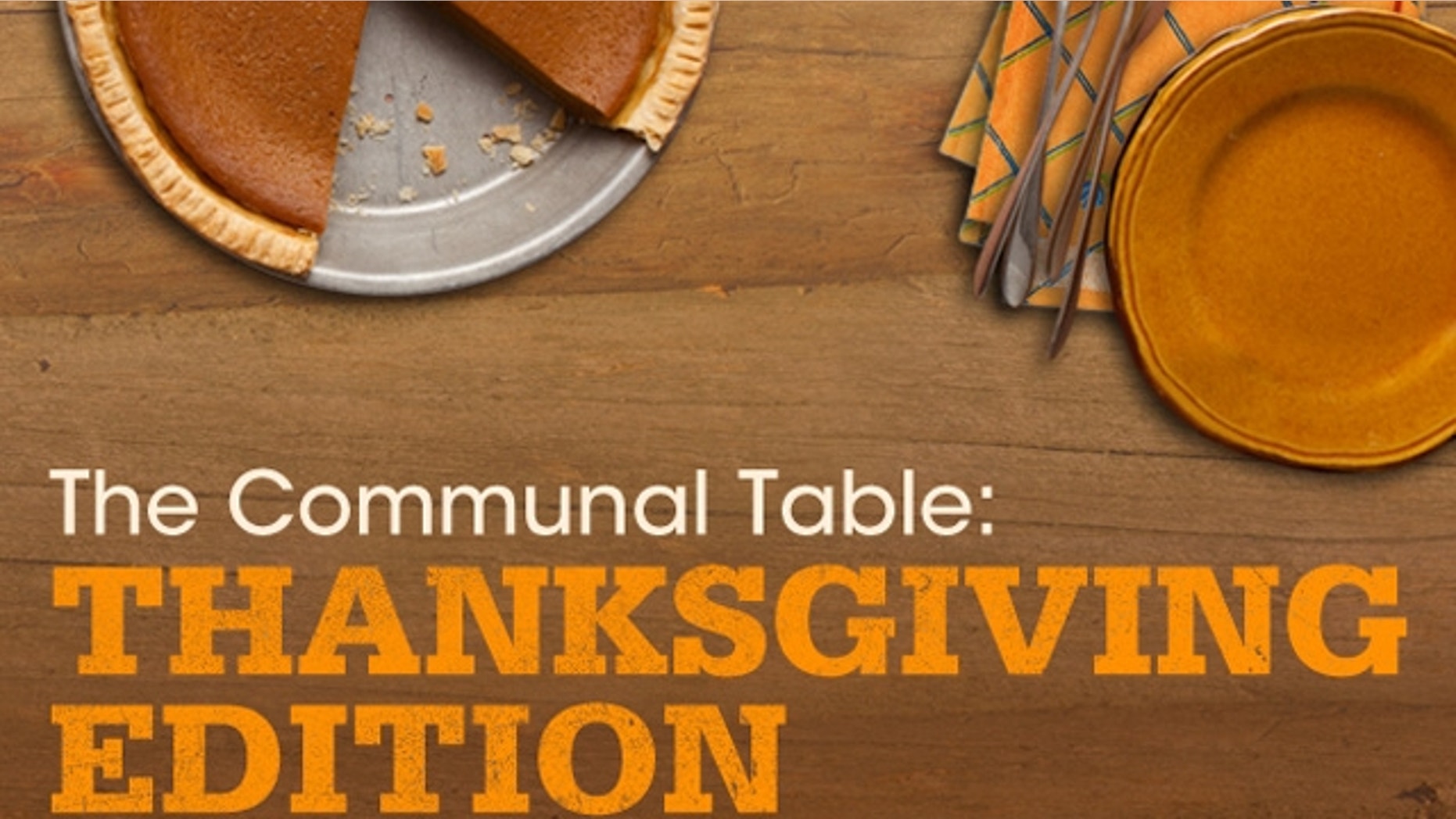 There's no better time than Thanksgiving to join friends at table and share good food.
This year we've gathered around a virtual table and shared Thanksgiving recipes with our friends at the Food Network, Bon Appetit, Epicurious and more to complete a full, potluck dinner.
We jumped at the chance to give thanks to our sweet tooth, and share some delicious Ginger Molasses Sugar Cookies.
If you think Thanksgiving desserts have to be all about pie, these Ginger Molasses Sugar Cookies are just the thing to change your mind. With a delicious combination of ginger, cloves and cinnamon it's like biting into the holiday season. They make the perfect addition to any dessert table or can be packaged up decoratively as a hostess gift or party favor for your guests.
Don't forget to scroll down for more great ideas for cocktails, side dishes and mains.
Ginger Molasses Sugar Cookies
Ingredients:
• 4 1/2 cups of flour
• 4 tsp of ground ginger
• 2 tsp of baking soda
• 1/4 tsp ground cinnamon
• 1 tsp cloves
• 1/4 tsp salt
• 3 sticks butter - room temperature
• 2 cups granulated sugar
• 2 eggs - room temperature
• 1/2 cup molasses
• White granulated sugar for rolling
Directions:
Preheat oven to 350 degrees. In a medium bowl, sift together flour, ginger, cinnamon, cloves, salt and baking soda. Set aside.
In a large bowl, or stand mixer fitted with a paddle attachment, beat together the butter and sugar until light a fluffy. About 5 minutes.
Next, add eggs one at a time, beating after each addition. Beat in molasses. Using a wooden spoon, stir in the dry mixture until incorporated.
Make 2 inch rounds (I like to use an ice cream scoop to insure the cookies are the same size), roll in sugar and bake for 12-14 minutes.
The total time will depend on your particular oven.
Check out more great recipes from our friends at our table:
Cocktails, Appetizers, Salads and Breads:
Liquor.com: Thanksgiving Cocktails
The Kitchn: Goat Cheese Panna Cotta Topped With Canned Cranberry Jelly Cut-Outs
Big Girls Small Kitchen: Braided Biscuits
Epicurious: Chestnut and Sherry Soup
Yahoo! Shine: Spicy Caramelized Onion Jam With Goat Cheese
YumSugar: Kale and Chard Salad with Pomegranates and Hazelnuts
Whole Foods Market: Mixed Green Salad With Pears, Hazelnuts, Blue Cheese and Homemade Croutons
Mains:
FN Dish: Alton Brown's Good Eats Roast Turkey
**Eatocracy: Country Ham With Pickled Peaches
BlogHer Food: Root Vegetable Pot Pie With Cheddar Biscuit Crust
Sides:
Cooking Light: Fennel, Sausage, and Caramelized Apple Stuffing
Bon Appetit: Maxine Rapoport's Turkey Stuffing
EatingWell: Green Bean Casserole
Serious Eats: Ultra-Crispy Roasted Potatoes
Oprah.com: David Chang's Roasted Brussels Sprouts With Asian Vinaigrette
Food Republic: Cavatappi With Fontina and Fall Vegetables
Healthy Eats: Green Bean Casserole With Crispy Shallots

The Dining Section:
Real Simple: Brown Sugar-Glazed Carrots With Rosemary and Pecans
The Daily Meal: Bacon Brussels Sprouts
AP/ J.M. Hirsch: Ginger-Pear Cranberry Sauce
Food52: Mashed Potatoes with Caramelized Onions and Goat Cheese
Food.com: Make-Ahead Mashed Potatoes
Food & Wine: Swiss Chard and Leek Gratin
All You: Sweet Potato Bake
Desserts:
The Blender/ Williams-Sonoma: Deep-Dish Apple Bourbon Streusel Pie
Southern Living: Pumpkin-Pecan Cheesecake
Cooking Channel: Apple Bread Pudding
Fox News: Ginger Molasses Sugar Cookies
Gourmet Live: Pumpkin Coconut Panna Cotta
Melissa Clark: Sweet Potato Ginger Custard Pie
MyRecipes.com: White Chocolate Cheesecake With Cranberry Currant Compote
Nothing says Thanksgiving like the sweet-smelling aroma of a Thanksgiving dinner. From plump and juicy turkeys to delectable desserts, send us photos and videos of your Thanksgiving meals.