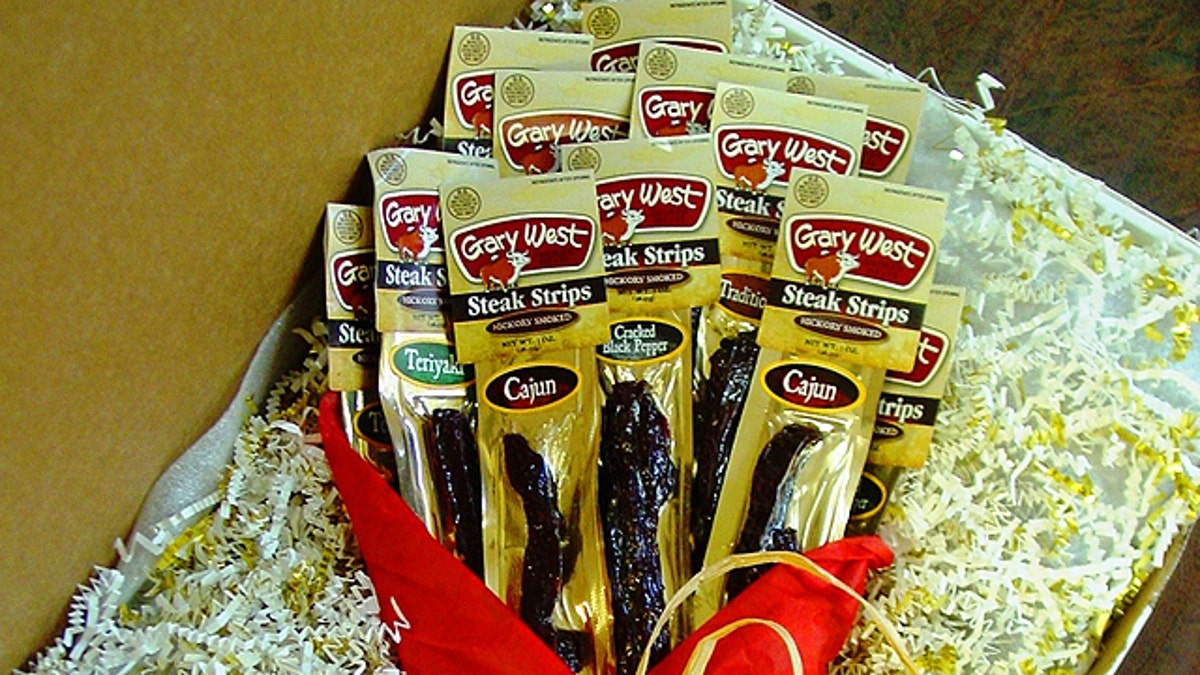 Dear Old Dad puts up with so much and bears everything with fortitude. Here are some Father's Day food and food-related items to show pops just how much you love him.
Bacon Candy Bars
In "Pulp Fiction" when Samuel Jackson's Jules Winnfield says, "I just don't dig on swine," John Travolta's Vincent Vega replies, "Bacon is gooooood." That widely-held sentiment also applies to chocolate, which is why Katrina Markoff of Vosges Haute Chocolatier combines the two. Her Applewood smoked bacon and Alderwood smoked salt Bacon Candy Bars come in milk or dark chocolate. Bars, $7.50 www.vosgeschocolate.com
Family Photo Cookies
Photo Cookies are half-graham cookies dipped in white Belgian chocolate, personalized with your favorite family photo. You supply the full-color image, they apply it to the cookie and create a nonpareil "frame." $30, dozen. www.ediblegiftsplus.com
Lobster of the Month
Get Dad an authentic New England feast from Catch a Piece of Maine's designated "Lobsterman of the Month." It includes four 1.5-pound lobsters, 1 lb. Maine clams, 1 lb. Maine mussels, 1 lb. Jonah crab claws, four Maine desserts from local purveyors, lobster bibs, cooking instructions, recipes, utensils, wet-naps, sea salt, a photograph, a map detailing the harvest date and location of where your feast lived, and a DVD. Treat Dad and help preserve Maine's lobster industry. $249 (includes next day shipping) www.catchapieceofmaine.com
Beef Jerky Bouquet
Finally, a bouquet for dad. Gary West Smoked Meats of Jacksonville, Oregon offers a three-quarters-of-a-pound Beef Jerky Bouquet made from one dozen tissue-wrapped Long-Stemmed Steak Strips packed in a traditional flower box. Mix and match Cajun, Teriyaki, traditional and black pepper. $35. www.garywest.com
Nascar Victory Celebration Edible Arrangement
What NASCAR Dad wouldn't love a Dale Earnhardt, Jr. NASCAR Victory Celebration edible fruit arrangement with car, photo, chocolate-dipped apples and hand-carved pineapple racing flags? Maybe a Jimmie Johnson fan. No problem, he's got one, too. As do Tony Stewart, Jeff Gordon, Danica Patrick, Ryan Newman, Mark Martin, Denny Hamlin, Kyle Busch and Joey Logano. Customize your driver's arrangement with other dipped fruits. $85 to $97 www.ediblearrangements.com.
BBQ Boot Camp
Let Dad revel in food and fire at the CIA's two-day BBQ Boot Camp. The Culinary Institute of America promises that after the two-day immersion course there will be "no limits to what you can do while wielding your grilling tools," making millions of American women happier than they ever imagined. Learn about hot smoking and grilling, marinades and brines, sauces and rubs. Dad gets an official chef's uniform, the CIA's grilling cookbook, and one meal in a CIA campus restaurant. New York bootcamp is August 5th and 6th. California's is September 23rd and 24th. $850 www.ciachef.edu
Beer and Pretzel Truffles
Forget peanuts and Crackerjacks, try a Beer and Pretzel Truffle - stout-infused milk chocolate rolled in crushed salted pretzels. It's part of Chicago-based Truffle, Truffle's Baseball Collection by Nicole Greene. Also includes: Roasted Peanut," organic peanut butter and dark chocolate rolled in roasted peanuts; "Strawberry Lemonade" strawberry puree and lemonade-infused white chocolate; and "Peach Caramel," milk chocolate caramel and peach puree. $10-$26 www.truffletruffle.com
Wine Barrel BBQ
Justin Vineyards and Winery turns wine barrels into BBQ grilling chips. Just Chips come from the staves of French Oak barrels that have become too richly impregnated with aromatics for winemaking. $14.50. www.justinwine.com
Dog Collar Bottle Opener
The Kurgo Wander Dog Collar with Bottle Opener turns Man's best friend into Man's BFF. $9.86 www.amazon.com