Funeral home offering pizza to people who pre-plan their funerals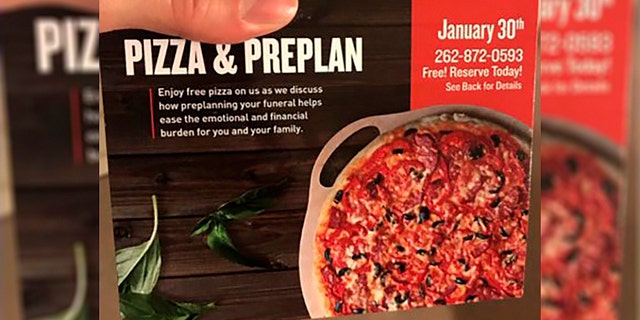 A Wisconsin funeral home is offering an unusual incentive to pre-plan for your death.
Krause Funeral Home in Brookfield recently sent out fliers advertising their latest promotion, called "Pizza and Preplan." The company wants to encourage people to plan their funerals before they die and are encouraging them to do so by offering up a free slice.
WOMAN DOING YOGA ON PLANE SPARKS DEBATE: 'THIS ISN'T UR LIVING ROOM'
"Enjoy free pizza on us as we discuss how preplanning your funeral helps ease the emotional and financial burden for you and your family," the ad reads.
Mark Krause, the funeral home owner, told Fox 6 Now funeral costs are expected to double within the next 15 years, so preplanning is an appealing offer.
The company ran a similar promotion last year, which the owner said more than 100 people showed up to. Janice and Dale Cassle took advantage of the offer last year and said the pizza party concept made them feel comfortable enough to begin the process.
"I never liked death. I was always afraid of it," said Janice Cassle.
FOLLOW US ON FACEBOOK FOR MORE FOX LIFESTYLE NEWS
The Pizza and Preplan event is for one day only, taking place January 30 at Krause Funeral Home.