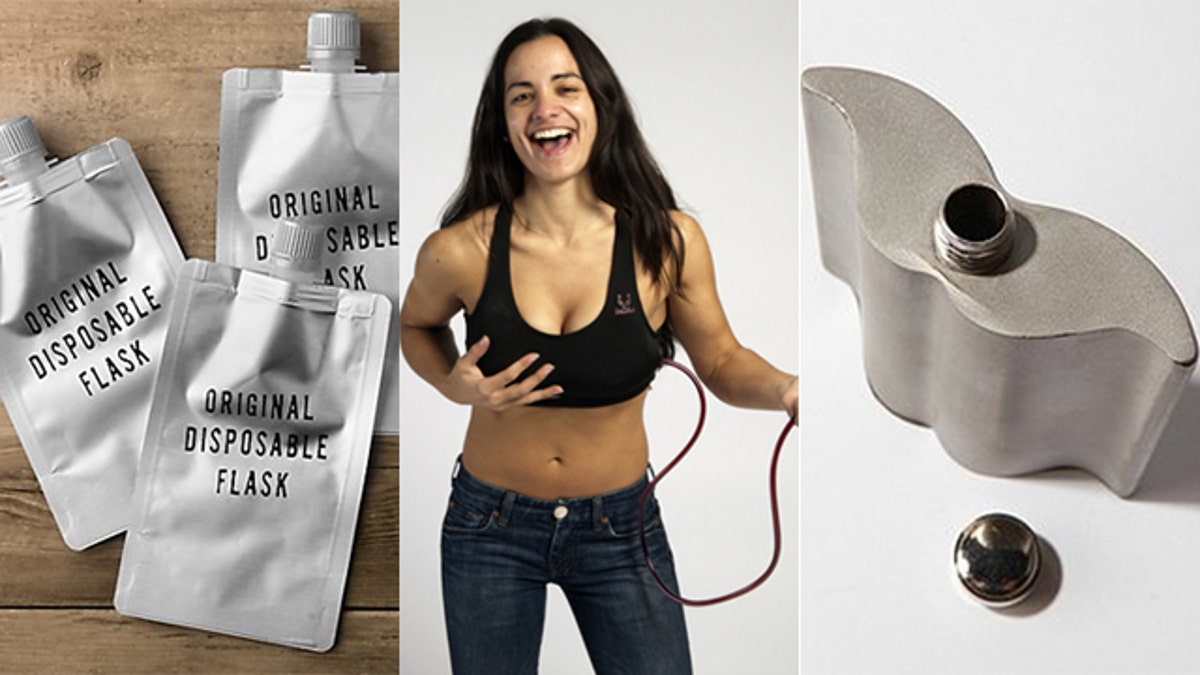 With the summer sun shining high in the sky, barbecues, ball games and other outdoor pursuits are the order of the day. But sometimes it's not practical to bring glass bottles, cocktail shakers, or even coolers. After all, those accoutrements are all sorts of handy in a home bar or on a patio table where they won't be jostled and the rules for those things are less stringent, but when out and about you need something a bit more portable for your more potent potables.
Luckily, there are plenty of transport options out there. Some are stylish, others are eminently practical, and still others are just plain bizarre. But each and every one of them delivers the goods when you need a handy way to carry a tasty beverage, be it beer, wine, hooch or good old H2O, no matter where the warm weather takes you.
The Wine Rack – Designed for only the classiest of dames, the Wine Rack is a bra designed to hold the beverage of your choice and, as long as it's full, adding a little enhancement until the beer goggles kick in. It's a "drinking system," so it actually comes complete with a drinking tube, making it easy to take a sip on the go. The drawback, of course, is that carrying 50 liquid ounces around on your chest can be a bit much in plus 90 degree heat. And while it can be inflated with air when the fun is done, people tend to find it strange when cup sizes fluctuate dramatically over the course of an evening.
My 'Stache Flask – Like mustaches, the flask has become something of a hipster accessory in the last few years. Why not combine the two? After all, facial hair and surreptitious drinking go hand in hand. At 5oz. capacity it's a bit on the small side, but it does work as a sweet ice breaker when chatting up intriguing members of the opposite sex you might meet in your travels.
The Original Disposable Flask – Sometimes it's not a great idea to bring something you don't want to lose along for the ride. That's when disposable flasks come in handy. Not exactly the most ecologically minded approach, but they're a cheap answer for times when that monogrammed flask isn't the right choice – especially since the tough pouch handles whatever is thrown at it where a traditional container might dent, shatter or otherwise get broken. Then again, it's a little weird to be filling what looks like a Capri Sun pouch with your favorite hooch.
Burton Liquid Lounger – About as far from sneaky as possible, the Liquid Lounger is a cooler backpack that's supposed to be a portable party. With enough room for a 36-pack and ice, not to mention integrated stereo speakers, it's got the goods, but dream on if you think you're slipping this plaid behemoth past concert security.
Bev-Cam Camera Flask – Sure it only packs about 5oz., but it's definitely the one to carry if you're hoping to slip one by the door. It's impressively realistic-looking and handy for a top-off on demand. In terms of practicality, it's low on the totem pole, but is a guaranteed laugh as a gift. The only true drawback is that the plastic doesn't wear particularly well, making it less convincing the more it gets used, but it's fun while it lasts.
Stanley Classic Flask – For the no-nonsense type, the Stanley flask offers few frills but a whole lot of function. Stainless steel, with an exterior meant to take a beating on camping and hiking trips, it carries 8oz. of tasty cargo. The steel walls are fairly thin, so it will eventually get dinged up and gain "character" over time. Anyone looking for a flask as a fashion statement would be better served looking elsewhere, but someone searching for a flask with style and materials that will last, this is a solid answer.