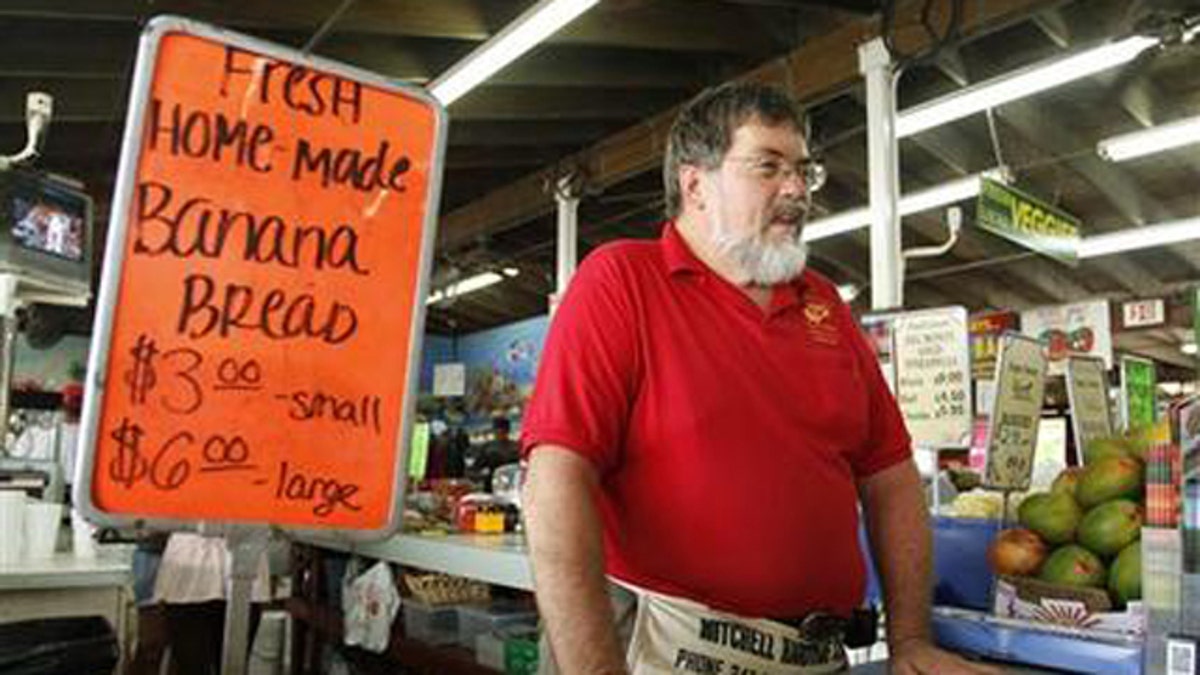 HOMESTEAD, Fla. - Robert is here, and he's been here for more than five decades.
Officially established in 1960, the Robert Is Here fruit stand is celebrating its 50th anniversary this year. Robert Moehling, who's been running the stand since he was 6 years old, can still be found behind the counter on any given day, chatting with regulars and answering questions about exotic fruits.
Robert Is Here - located in Homestead at the edge of the Everglades National Park - gets visitors from all over the world and has become a regional landmark. Moehling offers customers everything from the traditional to the unusual, including mangos, strawberries, lychees, papayas, guanabanas, tamarinds, sapotes and carambolas, also known as starfruit. Most of them he grows himself.
"We like to grow weird tropical fruit," Moehling said.
And just about all the fruits sold at Robert Is Here are offered as flavors for milkshakes and smoothies.
"It's great," said Jill Shafer, of Wooster, Ohio, who was on the way to the Keys with her daughter. "The milkshakes are out of sight. ... I don't know of any other places like this."
Moehling's daughter, Victoria Valencia, said they try to create an atmosphere for customers to hang out and enjoy themselves. A petting zoo behind the stand features emus, donkeys, goats, parrots, chickens, geese and tortoises. Inside the animals' enclosure is a climbing structure made of several tons of natural coral rock.
"We're trying to make it more enjoyable," Valencia said. "Instead of just coming out, getting their milkshakes and getting back in their car and leaving, we want them to stay."
Rita Merlevede, who was visiting from Belgium with her husband and three sons, read in a travel guide that anyone planning a trip to the Everglades had to stop at Robert Is Here.
"It's really a terrific place," Merlevede said. "It's nice that you can eat your fruit right here."
Besides offering customers fruit and entertainment, Moehling likes to help guests find other fun activities in the area. Robert Is Here is one of nine local businesses that joined several years ago to form the Historic Redland Tropical Trail. Other members include Schnebly Redland's Winery, Everglades Alligator Farm, Monkey Jungle and the world-famous Coral Castle.
"By promoting other places, it makes my customers happy, and happy customers come back," Moehling said.
The stand got its start because Moehling's father, also named Robert, was having a hard time unloading a harvest of cucumbers.
Not wanting to throw away perfectly good cucumbers, Moehling's father set his then-6-year-old son on a rural intersection one Saturday in November 1959 and told Moehling to sell the vegetables.
"I sat here all day long," Moehling said. "Not only did I not get any customers to buy cucumbers, no one even stopped."
Moehling's father simply couldn't understand how so many people could drive by without wanting to buy cucumbers, concluding that people must not have seen the boy. Moehling's father grabbed a couple hurricane shutters and wrote "Robert Is Here" on them in big red letters. He set Moehling back on the same corner the next day with the two signs in place. Moehling sold all the cucumbers by noon and walked home.
For the next several weekends, Moehling returned to the corner - the same location where the fruit stand remains today - to sell various fruits and vegetables. When Christmas vacation arrived, Moehling spent every day at the corner. When school resumed in January, Moehling's mother, Mary, arranged for the bus to pick him up and drop him off at the fruit stand. They would set up each morning and leave a coffee can on the table, allowing customers to pay on the honor system. After the bus dropped off Moehling in the afternoon, he worked until dark.
Despite the long hours, Moehling said he never resented working the stand as a child.
"It was something that I had to do to keep the family's head above water," Moehling said. "The first year or so it was sustaining an income we didn't have, because dad was really busted out."
The family's fortunes eventually improved, and by the time Moehling was 9, he had hired a neighbor woman to watch the stand for him while he was at school. The young entrepreneur bought his first 10 acres of property when he was 14. He planted an avocado grove on it and rented out the house. Over the years, Moehling continued to buy property in five- or 10-acre patches. Moehling, his wife and his children still farm the land and sell the produce at their stand.
After decades of running the business, Moehling said his children are handling more of the responsibilities. Three of his four kids decided to return to the fruit stand after graduating from college. The fourth is still in school.
Moehling said he's happy to have his children take over, so long as they're able to make the place their own.
"I started this to help my parents and grew it into what it is," Moehling said. "Now I'm forcing them to do something to make their mark."
Valencia said she's proud of what her father has done. She said everyone who has worked for him over the years - including her husband when he was younger - has learned what it takes to run a good business.
"We're not as cheap as Walmart, but things are quality," Valencia said.
"That's something my dad has had for his whole life. He will not settle for anything less."