French residents fight to stop McDonald's from closing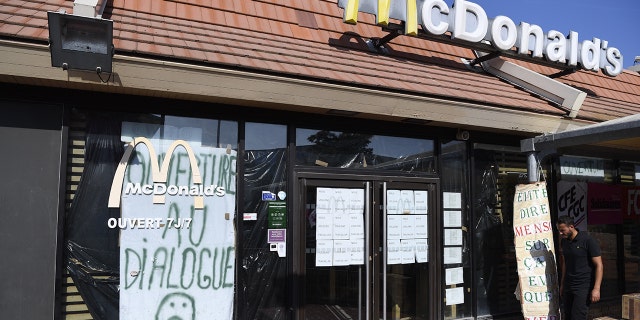 Save our Golden L'arches!
Because this McDonald's is a real haute spot.
French residents of Marseille are vowing never to surrender in their fight to save the town's fast-food joint, an unlikely cultural hub in a nation of artisanal-cheese-chomping snobs, The Telegraph reports.
"There's nothing left in areas like this, and McDonald's is a center of community life, a place where families can sit down and relax with their kids," said Salim Grabsi, a member of a residents association battling to stop the chain from shutting its restaurant.
"My neighbors bring their grandchildren every week," said Annick Villanueva, a retired teacher.
France's foodie snoots are known to snipe over "malbouffe" (junk food), but Marseille's conservative mayor, Jean-Claude Gaudin, and a Socialist senator, Samia Ghali, have joined the cause célèbre.
They're cooking up opposition to McDonald's through­out Marseille if the company goes ahead with plans to abandon its branch in Saint-Barthélémy, a north Marseille neighborhood plagued by gang violence, drug trafficking and high unemployment.
With a staff of 77, this Mickey D's is the second-biggest private-sector employer in Saint-Barthélémy, which has an unemployment rate of 30 percent, more than triple the national average. Supporters say McDonald's has won locals' hearts and minds by hiring school dropouts and young people desperate for work after serving prison terms. Many now fear losing their jobs.
The area's bakery, butcher's shop and hairdresser have already closed.
The franchise-holder, Jean-Pierre Brochiero, says the restaurant operates at a loss. Staff obtained a court order last week suspending its sale on the grounds that he had failed to comply with a legal obligation to consult employees. The court is to rule Monday.
France has long raged against McDonald's.
José Bové, a radical French farmer, made international headlines two decades ago when he bulldozed a McDonald's in a protest against US taxes on Roquefort cheese and other French dairy products.
But since then, the American fast-food chain has become a huge success story in France, which is now one of Mickey D's most profitable markets.
This story originally appeared on the New York Post.