Food Network's Anne Burrell opens Cheetos-themed pop-up restaurant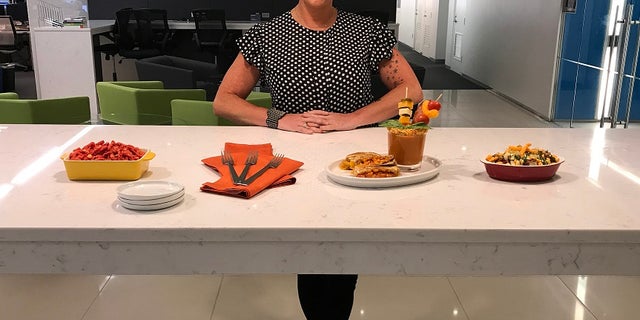 As celebrity chef Anne Burrell says, "It's pretty easy to be cheesy" — especially when it comes to her new restaurant.
Burrell's first pop-up restaurant, The Spotted Cheetah, opens to the public Tuesday night in New York City with a one-of-a-kind menu featuring Cheetos in every dish.
"I love Cheetos, and I love food so I wanted to come up with a clear vision of food that was … undeniably cheesy Cheetos, but then also what was true to me," Burrell told Fox News on the opening morning of the new restaurant.
"It's real food that is delicious but also has the huge flavor bump of Cheetos," Burrell, 47, said of her menu. The spiky-haired Food Network television host added that it's "very reflective" of the dishes she normally makes.
TACO BELL TESTING FIRECRACKER BURRITOS SPRINKLED WITH POPPING CANDIES
The Spotted Cheetah's eclectic menu includes: Cheetos Grilled Cheese and Tomato Soup, Flamin' Hot and White Cheddar Mac n' Cheetos, Cheetos Sweetos Crusted Cheesecake, Spicy Cheetos Nachos, Cheetos Crusted Fried Pickles, Flamin' Hot Limón Chicken Tacos, Cheetos Sweetos Sweet and Salty Cookies, and Purrfectly Fried Green Tomatoes.
"We had a lot of fun in a kind of whimsy way in creating this whole thing and testing the recipes," Burrell said.
"I always have one foot in the 'How can I be creative and clever?' category, but also be like, 'OK, how do we make food that isn't a joke,'" she added. "How this has been received, the outrageous positive response has been delightful."
Menu items range in price from $8 to $22, according to a press release.
Burrell credited her mother's imaginative style in the kitchen growing up as inspiration for her own creative cooking.
"I'm excited to see how people receive the food," Burrell said.
WOULD YOU TRY A SPICY SEAFOOD-FLAVORED CHEESE BALL?
The Spotted Cheetah is only open in Tribeca for three days — and already the reservations are filled up. A spokesperson said Tuesday that she hopes they will be able to add more tables to accommodate additional diners this week.
"It's pretty easy to be cheesy!"
Can't make it to the restaurant? Burrell said all the recipes will be published on The Spotted Cheetah's website.
For those who want another taste of Burrell's cooking, she opened Phil & Anne's Good Time Lounge earlier this summer in Brooklyn.
And Burrell said she's "absolutely" open to creating another pop-up restaurant in the future.