Food Network star Duff Goldman's Rainbow Chocolate Chip Cookies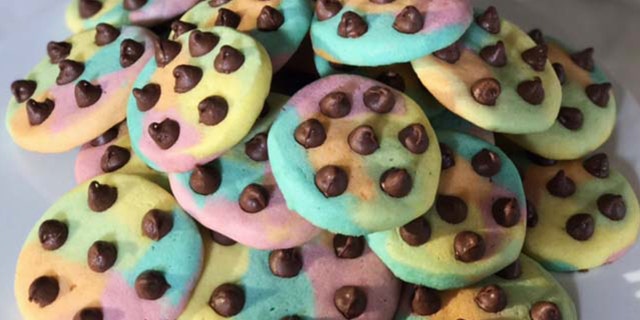 "Ace of Cakes" pastry chef, Duff Goldman, shares his colorful twist on a classic recipe. To see the Food Network star make these wild Rainbow Chocolate Chip Cookies, watch the video here.
Cook Time:12 min
Prep Time:15 min
Total Time:30 min
Servings: 36
Ingredients:
1 ½ cups butter
2 cups sugar
1 teaspoon kosher salt
⅛ teaspoon ground cinnamon
1 teaspoon pure vanilla extract
2 teaspoons baking powder
4 extra-large eggs plus
1 egg yolk
3 cups all-purpose flour
2 cups cake flour
2 cups chocolate chips
5 different food colorings
Preparation:
Preheat oven to 375° F.
Mix together flours, baking powder, cinnamon and salt.
Cream butter and sugar until light and fluffy in a stand mixer. Mix in eggs and vanilla. Add flour mixture and mix until well combined.
Divide dough into five equal portions. Dye each portion into colors of your choice with food coloring.
Roll each color into a snake-like long tube, then roll all five colors into a large snake.
Slightly knead the colors just to get them jumbled, but not mixed.
Measure out cookie-sized balls. Place on ungreased cookie sheet and flatten down with your palm.
Place 12-15 chips on each cookie, pushing them in a little (Duff's Tip: You can use a chopstick to make indentations for the chips).
Bake for 8 to 12 minutes. Let cool for 5 minutes, then transfer to a wire rack to cool.