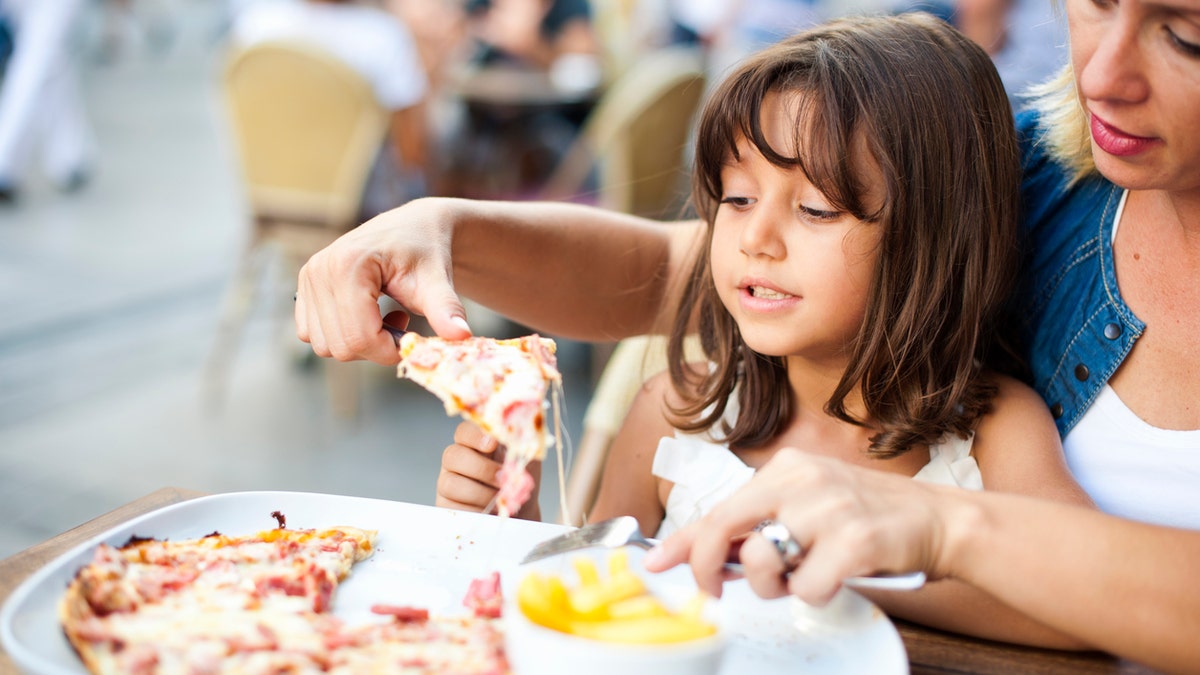 A Tampa Bay pizza shop posted a sign outside its business last week – no children.
The sign, written in all capital letters, quickly drew the attention, and ire, of many in the community. Soon after the new policy took place, a Tampa Bay Mom's Group Facebook page exploded with comments about the situation.
Many felt "this is an outrage," while others thought "it's [the business'] prerogative."
Troy Taylor, who opened the Hampton Station pizza shop in 2015, had started his business as a family and hipster-friendly eatery with patio courtyard and a variety of action figures positioned on the tables. But after "a lot of people who couldn't keep their kids under control," Taylor tells the Tampa Bay Times, he was forced to take action, referencing a particular incident as the catalyst for his decision.
NEW YORK RESTAURANT HAS ONE-DRINK LIMIT POLICY FOR CUSTOMERS WITH KIDS
"A kid was in danger and could have seriously been hurt," he said. "It's a liability and safety issue. After the incident, I thought, this can't happen again."
The restaurant is located on a busy street in the Seminole Heights neighborhood and has an unprotected patio with access to the road.
Troy defends his decision citing the mixture of alcohol, which the restaurant serves, and kids could have dangerous results.
Social media has been split on the Troy's choice, with some on Facebook asking "how does this not fall into some type of discrimination?"
Another wrote, "This is a place that neighborhood families rallied around. I mean, this place literally uses action figures as their order markers."
But many supported the no kids allowed policy, writing that there are plenty of places families can go to instead.
ITALIAN RESTAURANT REWARDS WELL-BEHAVED KIDS WITH FAMILY MEAL DISCOUNT
One Facebook user bluntly wrote, "Get over it. Go somewhere else it's not that big of a deal lol."
Another said, "Fine by me! I don't have to take my kids everywhere with me and there's also plenty of other pizza places I can take them with me if I chose to."
Some even tried to find a middle ground suggesting that maybe the pizza shop and bar "should just ban kids after a certain time" like other pubs do.
Troy said, "It's one of the toughest things I've ever done. It's been gut-wrenching. I'm not a big social media person, but I've stayed away from Facebook."
Troy acknowledge in a Facebook comment the Tampa Bay Mom's Group cites, that he might lose some long time customers, but he "couldn't live with the fact that a child might get hurt at Hampton."
"We had a lot of great kids come in to Hampton and we are going to miss them, but this had to be done for everyone's well being," the post says.
Courtney Mattina, a mother of two also felt the business move was a positive one.
"I'm happy to see restaurants are taking a stand and saying, 'We don't want kids in here being noisy or messy, we're going to create an environment for adults only,'" she said to the Tampa Bay Times. "I was a waitress for six years and kids running around a restaurant is one of the most dangerous things in the world."
FOLLOW US ON FACEBOOK FOR MORE FOX LIFESTYLE NEWS
Other Seminole Heights restaurants have encountered the same problem when it comes to allowing children at their businesses. One restaurant in the same neighborhood caught flack for going child free, citing the dangers he witnessed when parents would allow children to frolic on the patio unsupervised.
While Southern Brewing and Winemaking in the same area decided not to ban children entirely, they do understand the importance of child safety. To combat bad behaviors, the brewery decided to set up a sign of rules discouraging running, screaming and other disruptive antics.
"Southern wanted to make absolutely clear that we are family-friendly and don't want to do any blanket banning, but we need to set some ground rules," retail associate Charlie McElman said. "We as staff said we needed signs that we can point to. I think there's been a big shift in how people are comfortable disciplining their children, especially in public."
"It's two camps, there's not a lot of middle ground on [banning children]. And people go from zero to nasty when they have access to social media," McElman added.