Eggnog waffles with cinnamon whipped cream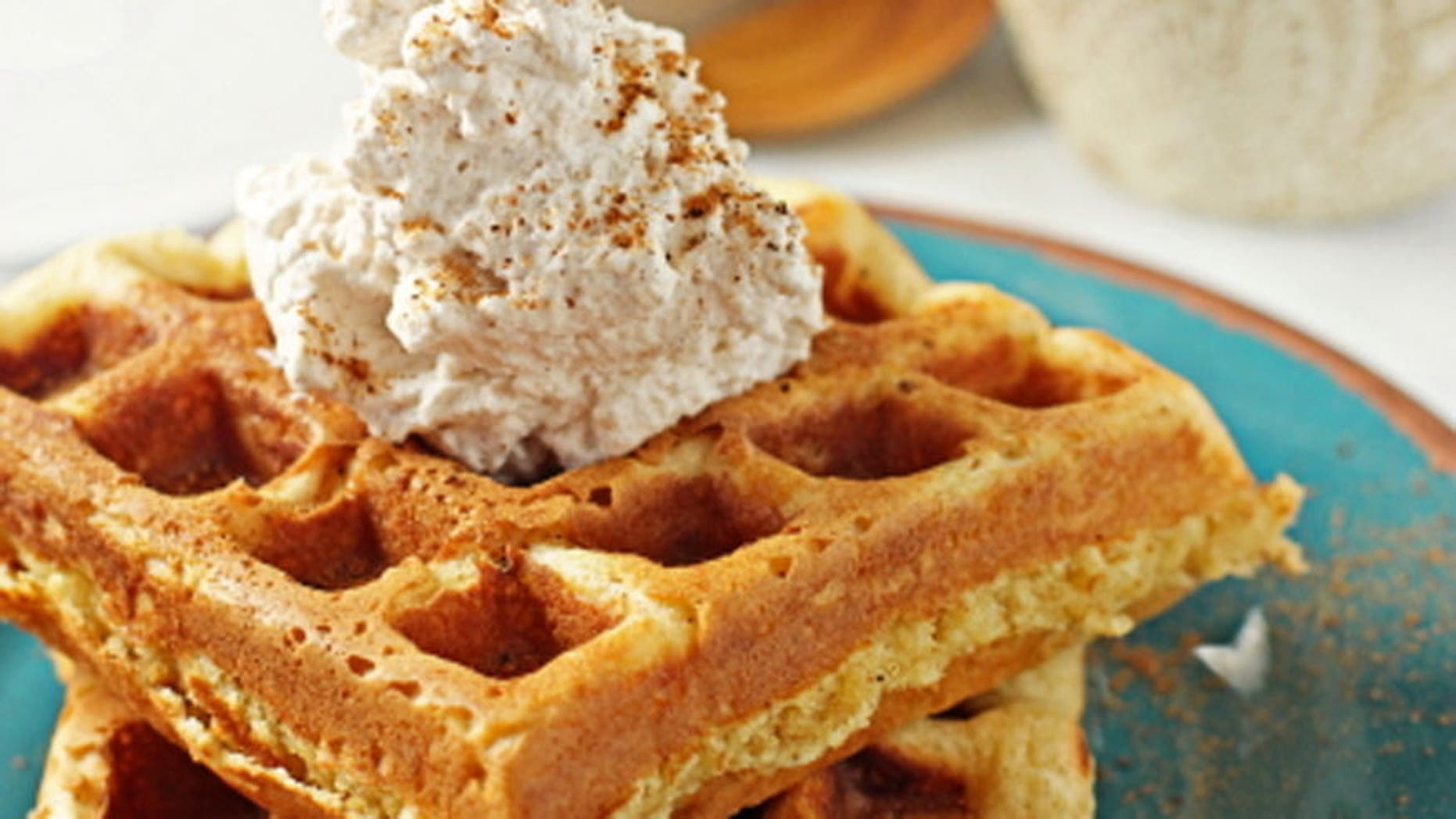 These waffles are slightly crispy on the outside but still chewy on the inside. They don't have a strong eggnog flavor, just a hint to make them a little different. And then there's the cinnamon whipped cream. For more recipes like this, visit CookieMonsterCooking.com.
Cook Time:15 min
Prep Time:5 min
Total Time:20 min
Servings: 4
Ingredients:
1 ¾ cups all-purpose flour
1 tablespoon baking powder
1 teaspoon salt
1 tablespoon granulated sugar
? teaspoon cinnamon
? teaspoon nutmeg
2 large eggs
1 ½ cups eggnog
6 tablespoons unsalted butter, melted and cooled slightly
1 tablespoon bourbon, optional
1 cup heavy cream
2 tablespoons granulated sugar
? teaspoon cinnamon
? teaspoon vanilla extract
Preparation:
To make the waffles - in a medium bowl, whisk together the flour, baking powder, salt, sugar, cinnamon and nutmeg. In a large bowl, whisk together the eggs, eggnog, butter and bourbon. Add the dry ingredients to the wet ingredients and mix until just combined. The batter will still be lumpy.
Preheat a waffle maker. Pour the recommended amount of batter into the waffle maker according to the manufacturer's instructions. Cook until golden brown.
Meanwhile, to make the whipped cream, add the heavy cream, granulated sugar, cinnamon and vanilla extract to the bowl of a stand mixer fitted with the whisk attachment. Start with the mixer on low (to avoid it going everywhere) and then increase the speed to medium high. Whip until stiff peaks form. Do not over beat, or it will look curdled.
To serve, top the hot waffles with a generous dollop of whipped cream. Sprinkle with a dash of nutmeg and serve.