Eat, shoot and leave: Modern Round aims to take over the restaurant world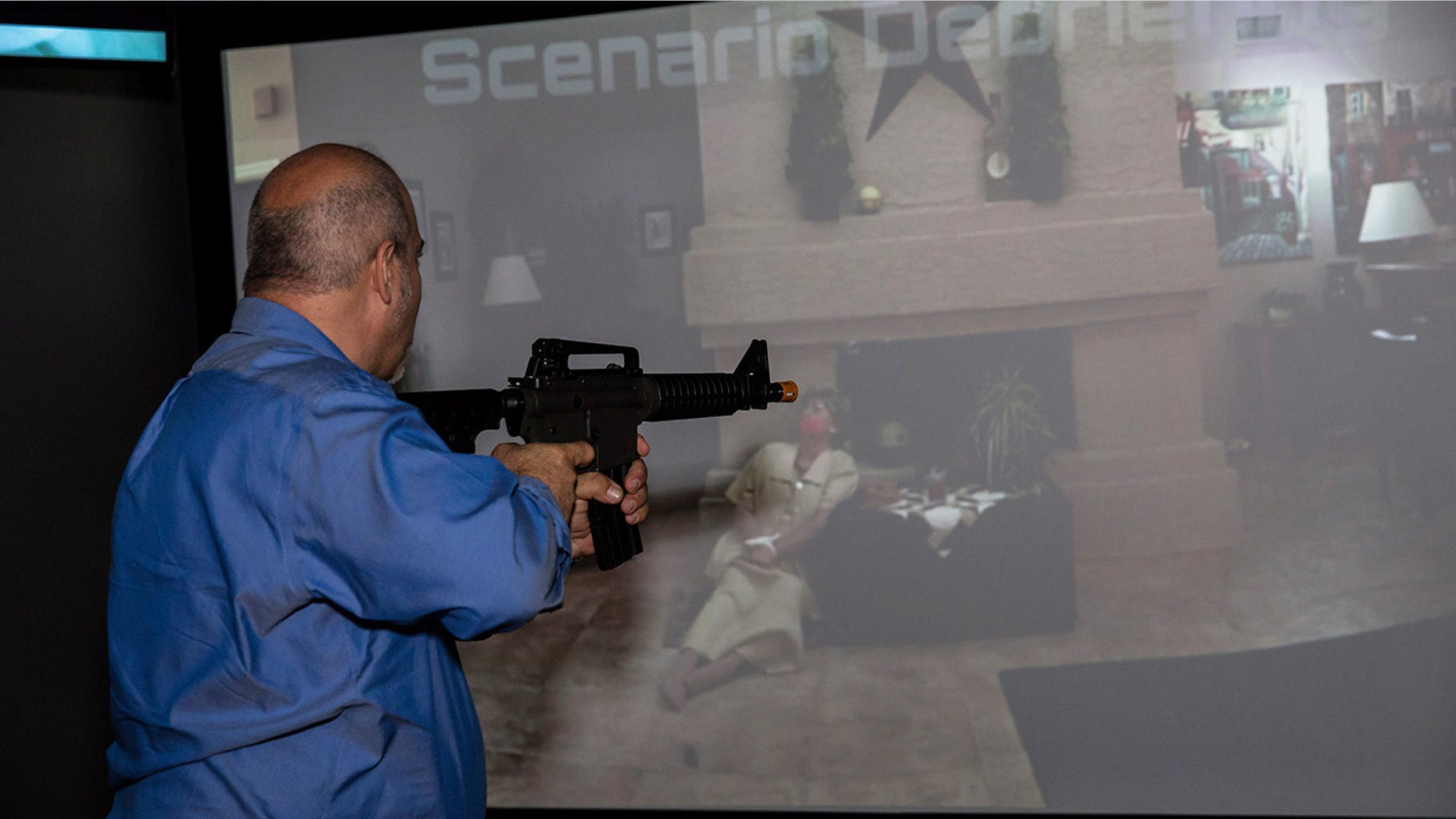 You always loved going to Chuck E. Cheese's, but your cheese pizza and Whac-A-Mole days have come and gone. All of a sudden, you're about four times the restaurant chain's median age, and you might feel a little out of place battling a 10-year-old at "Dance Dance Revolution."
But take heart, kids at heart. Getting older doesn't mean you can't mix food, friends and fun anymore. All you need is a change of venue — a place like Modern Round, a new restaurant chain that has you in its cross hairs.
It's a moderately-priced restaurant that offers higher-end bar food, craft cocktails and private shooting lounges — with games created for novice and expert marksmen alike.
DISNEYLAND'S EXCLUSIVE 21 ROYAL RESTAURANT NOW HAS A $15,000 DINNER
Guests at Modern Round can enjoy wiping out zombies, hunting ducks, or virtually saving an innocent victim in a holdup, all while sipping on a martini or a mojito and chowing down on filet mignon or a cheese and charcuterie board.
There's only one so far, in Peoria, Ariz., but Modern Round has plans for major expansion. The second one will open this year in Las Vegas, followed by two more, most likely in Dallas, Houston, San Antonio, Philadelphia, Miami or Charlotte. The long-range plan is to open 20 locations in the next five years.
For $25 to $45 an hour, depending on the time and day, groups of up to six people can borrow a replica firearm and rent one of 20 shooting lounges, complete with a 12-by-6-foot video screen. For $10 more, members can upgrade from hunting to a live-action scenario, like a holdup or a school shooting.
Modern Round has an exclusive contract with its technology partner, VirTra Systems, a virtual simulation weapons-training company used by law enforcement and the military.
The restaurant, designed to feel like Monte Carlo or a James Bond movie, has set its sights on 25- to 35-year-olds, said Modern Round CFO Ron Miller.
FOLLOW US ON FACEBOOK FOR MORE FOX LIFESTYLE NEWS
"We are a one-of-kind virtual shooting entertainment concept. We combine high-tech gaming with uniquely designed laser technology-based replica firearms, along with top-of-the-line food, beverages and service. The concept is based on the 'savor, sip and shoot' experience of our guests," Miller said.
"Philosophically, people are looking for something to do — especially once they leave college," said Vikran Soot, the managing director of NuPala Hospitality Development, which monitors trends in the food, beverage and travel industries. "If you don't want to go to a bar and you're between 20 to say 40, it's not always about the dating scene.
"[Modern Round] has legs in certain parts of the country. It's the wave of the future, these highly interactive environments. [These are] activities where people are engaged physically and mentally."
The replica pistols have the look and feel of a Glock or a Smith & Wesson M&P; the rifles feel like AR-15s. One replica even uses CO2 to replicate the recoil.
Guests who want to shoot have to purchase a $5 annual membership, but members get a $10 gift on their birthday. Miller says there are currently almost 29,000 adult members and 2,000 junior members (kids between the ages of 12 and 18).
"They play cop for the day, and our guests leave the lounge understanding how difficult it can be to be in law enforcement," Miller said.
Dennis Santiago, activities chairman for the Burbank Rifle and Revolver Club, said he thinks the simulated gun training has a lot of value and that places like Modern Round could create more gun users.
"As an advanced shooter, I probably wouldn't do something like this," said Santiago. "With the level I'm at, it doesn't do anything for me. But I could see a product like this would have lots of appeal to those who do own firearms but don't get a lot of advanced training themselves."
He also gave high marks to Modern Round for requiring guests to view a 2-minute safety video. "Anything that increases the public's awareness [of] good gun handling is a good thing," he said.
Modern Round's founders, Mitchell Saltz and Barry Monheit, have served as directors of Smith & Wesson.
According to Pew Research Center, more than a third of Americans say they or someone in their household owns a gun. Miller said 60 to 70 percent of his customers are not gun owners, but Modern Round is interested in capturing a broad market. Whether it will create more gun enthusiasts, provide a place for marksmen to challenge themselves, or just give newbies a taste of gun ownership remains to be seen.
RESTAURANT OFFERS ALL-YOU-CAN DRINK BEER FOR UNDER $1
"Anything related to a luxury shooting experience isn't new, and it's become more and more popular," said Jim D. Taylor, a sociology professor at Ohio University and the author of "American Gun Culture: Collectors shows and the story of the gun."
"I honestly believe, in my gut and from the research out there, that in terms of these virtual combat action scenarios, people get to work out their aggression, anxiety and tension from using these kinds of games. This would probably work more as entertainment and stress relief."
As Miller said, "Modern Round can serve as a stepping stone for future gun owners," but the company feels strongly about gun safety.
"Our replica firearms have the look, feel and weight of real firearms. Again, that is why it is imperative for us to promote gun discipline and respect for firearms."