Easter brunch is served: Deviled eggs with homemade pimento cheese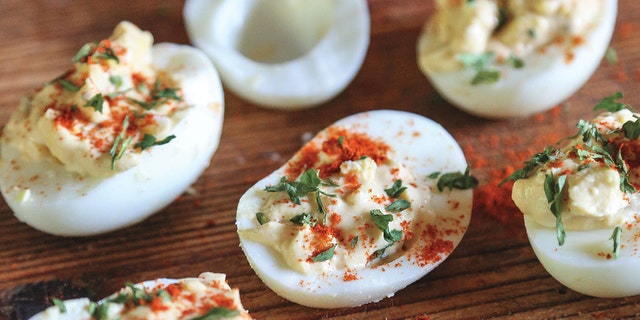 Everybody and their mother will be serving eggs — surprise, surprise — on Easter Sunday. Why not shake things up with this unexpected twist on a classic brunch dish?
Chef Eddie Hernandez, who grew up in Mexico but now describes himself as a born-again Southern boy, says he "can't get enough" of these deviled eggs with homemade pimento cheese, which he features in his new cookbook "Turnip Greens and Tortillas." Hernandez can't take all the credit, though: The dish itself takes inspiration from the family of David Waller, a North Carolina native who works as the head chef of Hernandez's Sol Catering.
"[It's] a great example of how the right chile can add a welcome and unexpected jolt to a classic Southern dish," says Hernandez.
11 EASTER SUNDAY DINING DEALS FOR THOSE WHO DON'T WANT TO COOK
Put a unique spin on this year's Easter brunch with a zesty plate of devilied eggs — but be sure to consider doubling or tripling in case you, too, find that you "can't stop" eating them.
Ingredients
10 ounces sharp cheddar cheese, grated (about 2½ cups)
2 tablespoons finely chopped pimentos or 2 tablespoons roasted, peeled, and finely chopped red bell pepper
2 tablespoons stemmed, dry-roasted, finely chopped jalapenos (remove some or all of the seeds and membranes for less heat)
½ teaspoon ground black pepper
¼ teaspoon hot sauce (such as Texas Pete)
¼ teaspoon Worcestershire sauce
½ cup mayonnaise
Devilied Eggs:
12 large eggs
1½ cups pimento cheese (recipe follows)
24 slices bread and butter pickles