'Dragon's Breath' and other Sundance Festival snacks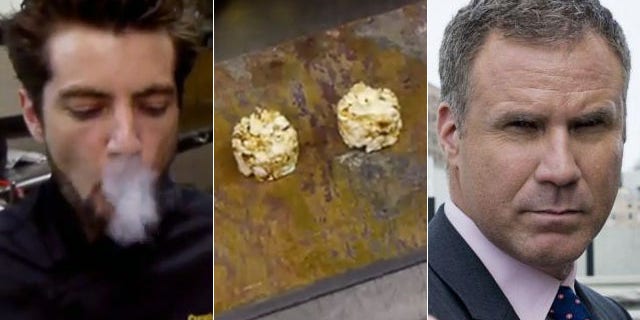 There is a snack that chef Marcel Vigneron can't wait to put into Will Farrell's mouth. It is called "The Dragon's Breath", a puffed wild rice tablet frozen in liquid nitrogen that causes smoke to billow out of the diner's mouth as it cools on their tongue.
"I just think Will will get a huge kick out of it," Top Chef alumna Vigneron, said of his creation. He will be serving it to Farrell during a dinner party at the Sundance Film Festival this weekend.
The well-known independent film festival is more than just movies and celebrity schmoozing. In years past it has become known as a destination for celebrity chefs to showcase their talents at exclusive dinners for the A-list. When the screens go dark, these culinary geniuses are cooking up their take on comfort food by the fireside.
Vigneron, a famed molecular gastronomist, will host three dinners during this week's festival, cooking for such celebrities as Farrell and Zach Galifinakis, Liv Tyler, James Marsden, Susan Sarandon, Liev Schreiber and Peter Saarsgard at the Moroccanoil Supper Suite at the Montage resort in Deer Valley, Utah -- the town adjacent to Park City where the festival is headquartered.
"The inspiration for the menu is a lot of comfort food but also things that are fun and interesting that maybe these people haven't seen before," Vigneron told us. "I love the movies of the people I am going to be cooking for. I feel like I enjoy the fruits of their labors all the time and now it is nice to be able to return that favor."
One of Vigneron's dishes will be a braised lamb neck, prepared like a beef bourguignon.
He will serve the cozy dish on top of a bed of noodles made entirely out of Johndrow Vineyards wine.
"There will be no gluten involved. The noodles will be entirely made from wine. I am using two hydro-coolants to prepare them," Vigneron told us. "The first takes the wine from a liquid to a solid to make a firm jelly to make sure that it is heat stable. The second will give it a flexible elasticity and texture so that it will take on the feel of a noodle with an al dente bite."
Iron Chef Judge Donatella Arpaia is taking comfort food at the Festival up an additional notch. Arpaia is part of ChefDance, an event that brings together a crew of chefs for five nights next week to prepare four course meals for VIPS like Christina Hendricks and Spike Lee.
Arpaia, who has never been to the Sundance festival before can hardly contain her excitement at being part if the event, but she admits she is a little bit nervous (in a good way) about cooking for so many famous faces.
"There is always a tendency for chefs to try to overdo it and get a little crazy at events like this. That works for some people, but I like to stick to rustic Italian dishes and dress it up a couple of notches," Arpaia said. "Plus all these actresses have probably been starving to get into their dresses so they will be hungry anyway."
Arpaia is preparing a red wine braised short rib with roasted brussel sprouts. "It's cold. I needed something hearty and warm," Arpaia said. Chef Hung Huynh from New York City's CATCH restaurant will be bringing his seafood delicacies to the middle of the country at Late Night events at the Bing Bar.
"Utah isn't exactly known for seafood," Huynh laughed. "I will be serving some lighter and healthier fare that we feature at Catch. "I don't like to cook what looks great but tastes like crap. It is much harder to make simple food taste good than if you are working with truffles and caviar."
Huynh will be making a salmon carpaccio with yuzu and soy, seared scallops with a tamarind brown butter and roasted cauliflower and a Halibut slow poached in olive oil and served with provencal vegeatables." As for cooking for celebrities Huynh just says, "whatever."
"They still need to be fed. They're just like regular people," Huynh said. "I just want to serve them good food."