'Don't bring your pet to a party': Hosting tips from Padma Lakshmi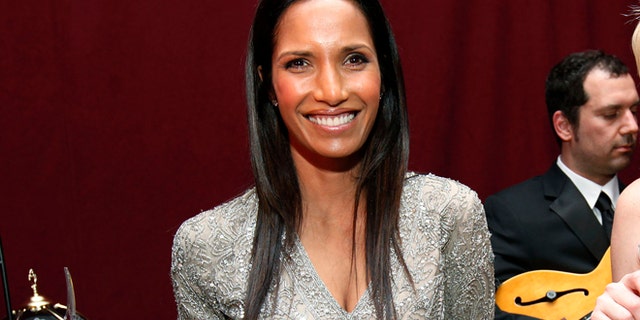 While all of your friends are nursing their holiday hangovers, it's time for you to plan the next big event: New Year's Eve. Playing host at the first party of 2013 could make or break your social calendar for the rest of the year, so this bash is crucial.
Luckily, Top Chef host and party hostess extraordinaire Padma Lakshmi is here to share her tips to hosting a flawless event.
A Buffet Beats a Sit Down Dinner
Lakshmi says a buffet is a great way to keep your guests relaxed and save you some extra work. There's no set schedule for party goers, so they can drop in whenever is most convenient and stay as long as they can.
"If you have a sit down dinner, everyone has to be there by 8 and they have to stay til 10:30 and if the conversation goes long, you have some of the guests like, 'I have to be up at 6,' It's rough," Lakshmi said.
Plus, you can make dishes in big batches ahead of time and simply reheat before guests arrive. One of Lakshmi's favorite party foods is a Spanish tortilla or frittata.
"It's best served at room temperature, it costs nothing to make," Lakshmi said. "It's just potato, onion, eggs and olive oil."
Lakshmi recommends either serving it straight from the oven or cutting it into little squares and putting toothpicks in it.
Try this variation: Bacon, Mushroom and Cheddar Frittata
Remember Guest Etiquette
If you're doing everything you can to be a good host, it's only fair that your guests remember their role. Topping Lakshmi's list of party-don'ts: Leave Fido at home.
"Don't bring your pet to a party," Lakshmi said. "I understand people are very passionate about their dogs, but if you're going to bring your dog in your purse, you should probably let the hostess know ahead of time."
Same rule goes for children and bringing along uninvited guests.
As for the wine, serving good wine that compliments the food is something the host should keep in mind. "It's about really tailoring the experience of really coming together and celebrating." (Sterling Vineyards is one place to start. Here are some other ideas.)
But hosts must keep an eye on who's draining their glass faster than most.
"I feel like if you're serving wine at your party and people are driving home, you're responsible for them," Lakshmi said. "I think it's usually like a glass of wine every 45 minutes to an hour and you should sip slowly."
Padma's Golden Rule
Take note: the most important tip Lakshmi offers is to make sure everything is ready an hour and a half before any of the guests arrive.
"There's nothing worse than arriving and your hostess is still in a dirty apron with her hair smelling of the food that they cook ... you feel guilty," Lakshmi said. "If the hostess is relaxed and she's enjoying her guests, then her guests will enjoy the party."