Disney's top food moments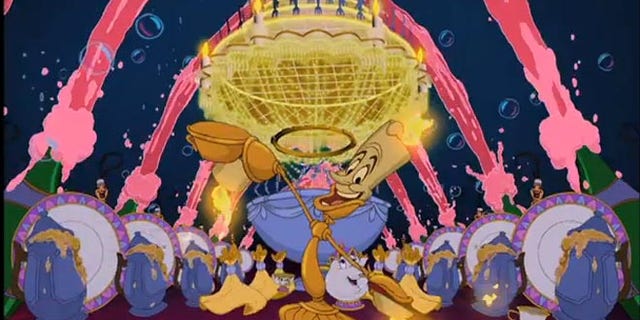 When you think about your childhood, Disney — in some shape or form — is probably scattered throughout the years. Maybe you were a fan of the princesses and paraded around your house in a yellow ball gown like Belle or while wearing "glass" slippers like Cinderella. For the fellas, if you put on your cowboy hat and your rodeo pajamas, like Toy Story's Woody, we think that's adorable, too. Or maybe you vacationed at Disneyworld and Disneyland to meet your heroes in person, take a ride on Dumbo's back, and take a chance at pulling the sword from that tricky stone.
While many Disney classics currently live in the beloved vault where they're preserved, their memories live on in homes across the world. From the famed kiss between Aurora and the Prince that woke her from her slumber in Sleeping Beauty to the magic of dancing buckets and mops in Fantasia and the phenomenon that was Zac Efron's Troy Bolton in the High School Musical trilogy, there are thousands of memorable moments that bring us back to being a wide-eyed child staring at the screen.
But between princesses, grand castles, and evil villains, you'll never guess a staple amongst these treasured films — food. Do the math: the poisoned apple, the mad tea party, two pups falling in love over spaghetti, a mouse with culinary brilliance — the food scenes are endless.
No worries, there's no need to rack your brain for your favorites (the layered cake in Sleeping Beauty, "Be our Guest," a spoonful of sugar), we've got the list, so just relax and take a walk with The Daily Meal into some great Disney food moments.
Snow White
Snow White eats the famed poison apple given to her by the evil queen while she's making a gooseberry pie for the dwarves. The evil queen suggests that apple pies are what makes the men's mouths water. She tells Snow White that it's a magic wishing apple. "Take one bite and all your wishes will come true," the evil queen suggests.

Pinocchio
Pinocchio eats pies and ice cream at Pleasure Island. "Get your cake, pie, dill pickles, and ice cream. Eat all you can. Be a glutton. Stuff yourselves. It's all free, boys," can be heard throughout the park.

Cinderella
Gus, the mouse, who loves cheese, fights with roosters and birds to get some. Later, Gus hides in the Prince's tea cup and almost gets hot tea poured on him.

Alice in Wonderland
Between the mysterious bottled drink with a tag that reads "drink me," a crazed tea party, and jam getting tossed in the Queen of Hearts face, there are plenty of food moments to go around.

Lady and the Tramp
Lady and the Tramp head to Bella Notte where they "order" à la carte and get spaghetti and meatballs. The two pups kiss when they meet in the middle while eating pasta.
101 Dalmations
Puppy thieves Jasper and Horace have sandwiches while they are keeping guard over the puppies for Cruella. The cat steals the inside of their sandwiches, and when reaching for the wine, Horace grabs the cat by accident and attempts to drink it.

Mary Poppins
There are a handful of food moments in Mary Poppins. She sings "A spoonful of sugar helps the medicine go down." Mary and Bert dine after jumping into the chalk painting, and the penguin waiters serve them raspberry ice cakes and tea. The children eat caramel apples during the "Supercalifragilisticexpialidocious" song. Lastly, Bert, Mary Poppins, Uncle, and the kids have tea while floating in the air by the ceiling and sing "I Love to Laugh."

Winnie the Pooh
Well, honey for sure — Pooh's favorite snack. He even sings the "Hunny Song"! Also, Gopher's lunch consists of summer squash, salmon salad, and you guessed it — honey. Lastly, Christopher Robin throws a "Hero Party" for Pooh and makes him a cake!

The Little Mermaid
The chef tries to turn Sebastian into an appetizer during Ariel and Prince Eric's wedding.

Beauty and the Beast
During "Be Our Guest," pastries, cakes, soup, hot hors d'oeuvres, flambé, tea, and champagne all participate in the musical number.

Aladdin
Abu loves apples and Jasmine almost gets her hand cut off for giving an apple to a little girl without paying for it. Aladdin steals a baguette, and then gets chased by the guards.

A Goofy Movie
Goofy eats a pancake short stack at a diner.

Toy Story
After losing Andy in a gas station, Woody and Buzz Lightyear hitchhike on the back of a pizza truck and sneak into Pizza Planet, an outer space-themed pizzeria, in order to find him.

James and the Giant Peach
The peach has more meaning for James than any fruit would have for anyone else. Its not just something to satisfy hunger, but something that provides James with new friends, like Grasshopper, Ladybug, and Centipede.

Hercules
During training, Hercules has to walk a tight rope while balancing an egg sitting in a spoon in his mouth. He loses his balance, cracking the egg over Phil's head. It fried thanks to Phil's anger.

Mulan
Mulan must impress the matchmaker in order to demonstrate that she is ready to marry, and bring her family honor. However, things dont turn out so well when Mulan accidentally sets the matchmaker on fire and proceeds to pour hot tea in her face

The Parent Trap
After pulling a series of pranks that involve honey and whipped cream, the girls are sent to the "isolation cabin." While the two are separated from the rest of the campers, they discover that they are twins, who share an allergy to strawberries and appreciation for dipping their Oreos in peanut butter.

Remember the Titans
Coach Boone makes an effort to desegregate the mess hall, encouraging his players to choose their meal companions based on position, rather than skin color.

The Princess Diaries
Unaware of how cold the green sorbet was, Princess Mia eats a huge spoonful during a diplomatic dinner, and experiences a terrible brain freeze. A few other diplomats followed the Princesss example, out of a place of kindness, also suffering through the cold repercussions of swallowing more than they could chew.

Monsters Inc.
Mike treats his girlfriend to a sushi dinner at Harry Housen's, but the night gets spoiled when Boo, a human child, is sighted inside the restaurant, causing all of the other monsters to panic.

Lilo and Stitch
Most of the food moments in Lilo & Stitch involve cake. While Lilo and Stitch are visiting Lilo's sister at work, Stitch shoves the piece of cake that Lilo ordered into his mouth. Lilo couldnt get too mad, though Stitch spits it back up once he noticed how upset his new friend got. Later on, Stitch bakes Lilo a huge birthday cake.

Finding Nemo
Although they gave Marlin the nickname Shark Bait, the vegetarian sharks in Finding Nemo are trying to become friends to all fishes, by not eating them. After all, fish are friends, not food.

Pirates of the Caribbean: The Curse of the Black Pearl
But why is the rum gone? Jack Sparrows love of rum will never fade.

High School Musical
Singing in the musical isn't the only way to go against the status quo. One of the basketball players, Chad, wants to spend his time off the court in the kitchen, trying "to make the perfect crème brûlée."

Ratatouille
Remy teachers Linguini how to make stock.

Enchanted
Since Enchanted puts a modern spin on the classic Disney fairytale, the famed poison apple from Snow White gets updated. Nathaniel finds it difficult to kill Giselle, since she wont eat the poisonous fruit, even though he disguises the apple in a number of ways. Attempt one involves Nathaniel disguising himself as a street vendor, who sells caramel apples. Attempt two required a bit more creativity on Nathaniels part while Giselle dined at an Italian restaurant, he served her a poisoned apple martini.

Up
During a sentimental moment, Carl gives Russell the grape soda badge that his wife Ellie had given him when they first met many years ago.

The Princess & the Frog
All of the neighbors flocked to Tianas house to taste her fathers gumbo. Years later, Tiana still dreams of opening up her own restaurant in New Orleans. She's a talented cook, and the only thing keeping her from reaching her goal is her lack of financial resources. Determined to make her dream come true, Tiana works as waitress serving flapjacks and hotcakes to hungry customers. On Mardi Gras, Tiana gets paid $500 to make her beignets for her friend's party. In the end, Tianas hard work and determination pays off, and New Orleans gets to enjoy her jambalaya, gumbo, and other Southern delicacies.

Tangled
Perhaps Mother Gothel isnt entirely evil. Sure, she kidnapped Rapunzel and locked her in a tower for 18 years. However, she did at least try to make up for it by buying the ingredients to make Rapunzels favorite dinner, hazelnut soup.

The Muppets
Stay away from the kitchen! Swedish Chef made quite the mess while preparing food for the Muppets.

Pochahontas
Meeko ate cherries that belonged to Governor Ratcliff's dog.

The Chronicles of Narnia: the Lion, the Witch, and the Wardrobe
The children eat dinner with the groundhogs in their home.

Pirates of the Caribbean: Dead Man's Chest
Why is the rum always gone? Because Jack Sparrows love for rum still hasnt faded.

The Lion King
Timon and Pumbaa show Simba the ropes of living the good life. They teach him how to unwind, relax, and of course, hunt for bugs to eat.

Sleeping Beauty
The three fairies make Aurora a tall buttercream cake for her birthday while she gushes about the man that she met.

Cloudy with a Chance of Meatballs
After the machine breaks down, it starts spitting our cheeseburgers in the form of rain.

Cars 2
Technically the stars of this Disney movie are cars, but that doesnt stop them from eating and acting like humans. The cars meet up at a bar for cocktails. Lightening McQueen even has a "usual." Mater mistakes wasabi for pistachio ice cream. The racecars anger the cars that are drinking in a British pub, when they spill their beers.

Meet the Robinsons
Wilbur makes Lewis wear a hat made of fruit when they travel to the future because he said Lewis' blonde hair would give him away as a human from back in time.

Wall-E
Wall-E's pet cockroach eats a 700-year-old Twinkie, and lives to tell the tale.

Hannah Montana: The Movie
Miley wasnt the only one to ruin Lillys birthday party. Rico pulled out all of the stops for Lillys birthday. He even got a birthday cake for her that was supposed to release sparklers and shoot out a "Happy Birthday Lilly" banner. However, there werent exactly fireworks when Rico pressed the button, just technical issues and a huge mess.

Hocus Pocus
While the witches are learning what has changed since their hay day, they head to a supermarket where Mary squirts white vinegar in her mouth.

Beauty and the Beast
The Beast and Belle dine on porridge together. First he eats like an animal and then Belle watches with horror. Taking a cue from Belle, the Beast then eats with manners.

The Aristocrats
The Butler puts sleeping pills into the cats food in order to kill them so he can get the inheritance money. Also, the cats hitchhike on the back of a milk cart for a bit, before getting discovered by the truck's driver.

Dumbo
While the other elephants eat hay, they discuss Dumbos big ears and call them a disgrace. The mouse, his friend defends him while munching on shelled peanuts.

The Jungle Book
King Louie talks about the "Bare Necessities" and eats coconuts, ants, bananas, and prickly pears.

The Muppets
While on a quest to find Kermit the Frog, Gary, Mary, and Walter pass by a sign that provides people with a map to Hollywoods homes, and instead stop at a hot dog stand.
See even more Disney food moments here
More from The Daily Meal

Beyonce's Favorite Foods on the Road

Food-of-the-Month Clubs: The Good, the Bad, and the Interesting

13 Fast-Food Themed Party Menus

How Food Plays a Role in 'Harry Potter', 'The Hunger Games' and More